Stephen Fischer always wanted to have a massive lightsaber battle.
So last spring, when the Western Washington University senior and Navy veteran had some money saved up, he spent it on $3,000 worth of lightsaber equipment. Numerous people said they'd join him on May 3 ('May the Fourth' wasn't feasible, unfortunately), but when Fischer showed up in WWU's Red Square, he was practically all by himself.

"I was so mad that I stood on the fountain at Red Square and said, 'Who wants to beat each other up with lightsabers?!'" he recalls. "And people just showed up, and we kind of created this awesome event."
Another friend walked up to people and handed them lightsabers, and with that, the Bellingham Saber Guild was born. Since that first day, a group of WWU students and community members have met in Red Square once a month to enact their own "Duel of the Fates," playfully engaging in an evening of lightsaber tag. Currently, the Guild is in the process of becoming an officially-recognized university club, while also working to publicize their events to the community-at-large.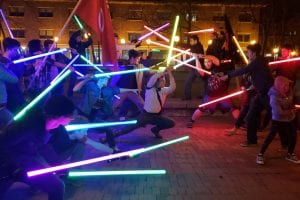 Fischer, 29, works closely with non-student Anthony Roselli, 33. The two met shortly after the first event, and have been collaborating ever since. Fischer focuses on the WWU side of the Guild, while Roselli runs the community side. Roselli was already working to establish himself as Bellingham's lightsaber guy, building and using custom-built lightsabers for contact juggling, in which various objects are spun around the body without using hands. Roselli says that some people's instincts, upon hearing about the organized battles, are to regard them as childish and geeky. But that, he says, isn't a bad thing.
"We kind of play to that 5-year-old in everybody," he says, and Fischer echoes that sentiment.
"It doesn't matter how old you are," Fischer says. "It doesn't matter if you like Star Wars or not. I guarantee that if you hand someone a lightsaber, they're going to geek out."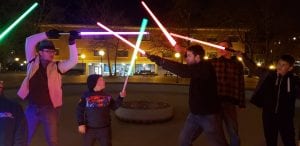 Fischer also created the club because, at a time when many people across the country are deeply divided along various lines, he wanted to bring them together to have fun, regardless of political views, sexual orientation, gender, or other criteria. The two men say the world needs more light. So, they've given it lightsabers.
"It's a foundation to build a friendship," Fischer says, "even if you have disagreements on other things."
The Weapon of a Jedi Knight
The Guild's lightsabers are bought online from various companies, and can cost anywhere from $50 to more than $1,000. The saber hilts are made from aluminum, with blades built from plastic polycarbonate. Each saber's glow is from LED lighting held inside sturdy casings, and run off batteries. The lightsabers have various sounds and colors, and most are activated with the simple touch of a button, like a flashlight. While the sabers are for play, they're strong enough to inflict real damage.
"We like to say you're going to break your friends before you break a saber," Roselli says. "They hurt."
That's why the club sticks with lightsaber tag, a bit less physical than you'd find in fencing or boffering clubs. They play by general LARPing (Live-Action Role Play) rules, where if the blade strikes a limb, it's lost. A strike to the core of the body (front or back) means you're out of the game.
On average, 30 to 40 people have been attending roughly 3-hour-long events, according to Fischer. Battles are based on different formats, including group eliminations, free-for-alls, capture the flag, and the classic Jedi vs. Sith arrangement. Teams are often selected based on lightsaber color. All ages are welcome, though they're aiming for 18 and up since the sabers can be dangerous and safety is paramount. So far, people as young as 5 and old as 40 have participated. Parents who've brought their children, Roselli, says, often have just as much fun as their kids. The physical exercise from the battles is a nice perk, too.
Currently the Guild meets once a month, but hopes to gather bi-weekly in the future. Ideally, Fischer says, they'll have two club meetings a month and one large saber event. Although criteria are still being approved, the club will be structured by the Jedi order. Members start off as initiates, then padawans, before choosing to become Jedi sentinels, guardians, or consulars.  After meeting certain requirements, members become Jedi Knights. Becoming a Jedi Master equates to being a club officer, with Jedi Grand Master being the club president.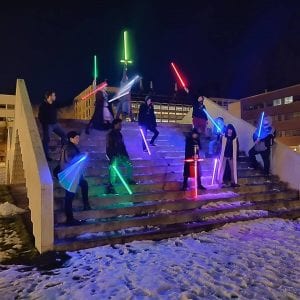 Looking to the Future
Both Fischer and Roselli hope that, in addition to being fun, the Guild can serve several greater purposes.
Fischer says being officers of the club will hopefully allow members to live their fantasy as Jedi while also gaining resume-boosting experiences, such as being in charge of the club's advertising budget. Roselli hopes the club may eventually act as a kind of mentorship program, in conjunction with the YMCA or Boys and Girls Club, allowing students to earn internship credit by acting as mentors and teaching young children a fun, social activity. The Guild can also be a way of combatting certain health issues: Roselli and several friends began lightsaber battling as a way of dealing with depression and anxiety.
Another goal of Roselli's is to hold build-your-own-lightsaber classes, allowing club members to gain experience with machine shop, soldering and electrical work. Roselli also hopes to generate interest for contact juggling classes, which he hopes to teach at the Bellingham Circus Guild and Bellingham Dance Company.
Both men are ecstatic that their shared passion for lightsabers has caught on. But more than that, they're glad it has had a positive effect on others.
"We don't do this just because we love to do it," Fischer says. "We do it because we want to see people be happy."
For more information on Guild meetings, check out their Facebook page. A Guild website and Instagram page are also currently in the works.