At the foothills of Mount Baker, the deceptively quiet town of Glacier is a tight-knit community of outdoor recreation enthusiasts. A local skate park has been trying to sprout there for over a decade, and where there's a will, there's a way. It's inspiring when a community bands together, with no government or private funding, to achieve an expensive goal.
This Land is Whose Land?
Jeremy Miller began laying the groundwork for the Coal Pad Skate Park around 2006. But no one knew who owned the land. "Dirt bikers used it as a hub to shuttle mountain bikes," says local skater and general contractor, Joe Lauderdale.
"It was an eyesore. There was trash and burnt cars," Miller explains.
Construction workers like Lauderdale would order an extra yard of cement to donate to the pad after a job. One day in 2009, local bar Chair 9 found themselves with excess after pouring new floors. "That was the first time we had a truckload," Miller remembers.
So it was quite the surprise one day in the early stages of development when someone new turned up on-site. "There was this guy, standing there sizing up the stuff to demo," Miller recalls. "That was where he wanted to build his house. I was completely in a panic."
Joe King bought the land in a county auction when the logging company who owned it didn't pay their taxes.
At the time, Miller was also working at Milano's in Deming. The right person heard he needed legal help and connected him with a property lawyer. "Without her, none of this would have ever happened," he says. "For years, she never charged us."
The lawyer helped Miller convince King what a valuable asset the land was to the Glacier community.
Miller took King to the Bellingham Skate Park, which was conceptualized by skaters, but not executed by skaters. Then he compared it to the Orcas Island Skate Park, which cost roughly the same and was both conceptualized and executed by skaters for a greater degree of understanding.
And Miller appealed to King's parenthood saying, "This is something that gets handed down to kids. The next generation is going to care about it."
Lauderdale advocated for it in a similar vein saying, "We're building a place for kids – young and old – to play."
In 2010, King and Miller signed a landowner agreement allowing for further momentum on the construction of the Coal Pad.
Fundraising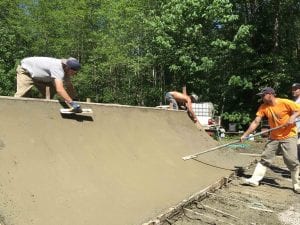 Fortunately for skaters – if not for skiers – 2014 failed to meet Mount Baker's "Legendary Banked Slalom" (LBS) standards for snow. This motivated the community to tackle this enormous undertaking, which had been slow going.
Cressey Rice, a professional accountant, established the nonprofit, Glacier Skate Association (GSA) and became treasurer. Ryan Davis, a sales rep for Lib Tech, became president. Community members took advantage of this opportunity to throw a giant party at Chair 9 and raise over $25,000.
The many out-of-towners who took time off for the LBS contributed greatly to the Coal Pad's fundraiser. Zoe Vernon, local skater and GSA secretary says, "We're a little over halfway done. We aim for two to three fundraisers a year. Every little bit helps."
According to Miller, "The county still wants a call box, bathrooms, widened roads and things for the fire marshal."
Local teacher, Joseph Garcia, is pouring energy into grant writing to hopefully complete this project. And you can assist with the Coal Pad Skate Park by making a donation.
Construction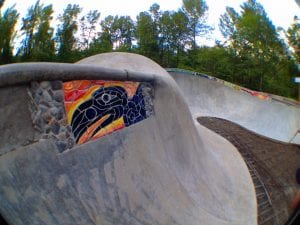 Numerous people donate resources and time. "I do lots of organizing and stoking humans," Lauderdale says of his role in facilitating volunteer participation.
"The more everybody gets to help with the project, the more everyone will feel ownership for it," explains Miller.
The process is a collaboration. "It's informal, discussing possibilities while shredding," Lauderdale says. "Most of the time, it's rad to hear everyone's ideas, but sometimes people have different ideas. I see myself as a mediator."
The Coal Pad is organic in design. "It's original," Miller says, "really complex building and artistry. You don't want to be riding over cracks or feeling kinks. There's a pool coping grinding surface and a concrete bullnose edge instead of metal," Miller describes.
"Coping is the top corner of where the transition meets the deck. There's lots of metal in other parks. Pool coping is a pre-cast professional product," Lauderdale clarifies.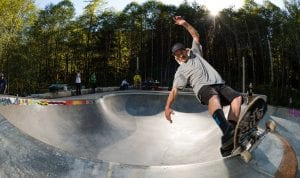 The Coal Pad has hand-stacked coping and pool coping, which provides a more varied surface for experimentation than other skate parks. Local Grindline staff assisted in establishing a site plan. And Jamie Lynn and friends contributed beautiful hand-made tile in traditional Pacific Northwest form. People even drove down from Canada to pitch in.
Everyone pitched in, filling a unique niche with their own skill set. "Professional contractors, people with skate park building experience, a professional accountant, county professionals and local artists," Zoe lists.
"All I have to do is help. I don't have to go out and have this headache. We all meet up at night with kids and BBQ, and it's nice. People are respectful," says Miller.
"Baker is a gnarly mountain and the Coal Pad has a reputation as a gnarly skate park, with a newer more learner-friendly section," explains Zoe.
"I'm proud to be a member of this community – it's like a tribe," Lauderdale says. Coal Pad Skate Park shows that with cooperation, anything is possible.