Whatcom County is teeming with nonprofits – all worthy of support. There are so many great organizations that, at times, it's challenging to decide where to volunteer or donate, even for smalls amounts of time and money. But what if you had around $600,000 to give away? That kind of money can make a real impact.
That's exactly what the First Federal Community Foundation board does every year.
First Federal formed its Community Foundation in 2015, and funded it with $12 million in stock and cash upon the bank's conversion to a public company. They aim to give back to communities in which First Federal has full-service branches. "I've worked in banking for close to 30 years now and I haven't seen a bank have a separate foundation with dollars that were specifically allocated for grants," says Troy Wills, vice president and regional manager in Whatcom County.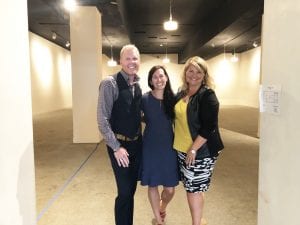 The First Federal Community Foundation granted $50,000 to the Whatcom Dispute Resolution Center (WDRC) for capital improvements, including larger mediation rooms, classrooms and a quiet room. Overall, Wills says, "There's a lot more they'll be able to get their arms around now."
Both Wills and Julia Parker, assistant vice president and branch manager, were deeply affected by being part of this process, which resulted in an exceptionally large grant going to a Whatcom County mainstay. They were aware of WDRC, but had never used its services.
"It's personal," Wills says. "It's that quiet resource."
Wills was especially impacted by touring the site and "being in the heart of it, seeing people there, meeting mediators, looking in the rooms and being present," he says. "Seeing an employee teaching a class to a room full of people that are separated or divorced, who have children and need to talk to their children about how they're going to parent and get through that challenge, that was real to me. I sat there and thought, wow. I'm married and have two boys and I'm not divorced, so I hadn't thought about that. But there are people in that room where this is a real moment in their lives. And I wanted to applaud everybody there. I walked away going, 'This is why we're funding this $50,000. Because that was phenomenal.'"
Twice each year, the First Federal Community Foundation opens the application window and accepts grant applications. Available grants are categorized in four ways. Community Support Grants are $5,000 to $25,000, with $100,000 total allocation per year. Then there are Affordable Housing, Economic Development, and Community Development grants. These have a minimum application level of $25,000 and are available in amounts up to $100,000.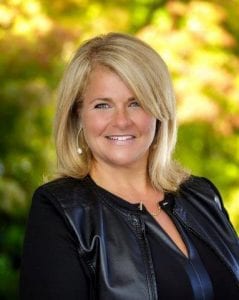 It gets more competitive each year. In the first year, the Foundation received approximately 25 applications; in the last year, there were over 80. "In a perfect world, we'd fund them all," Wills says. "But the reality is we can only give roughly $600,000 per year. It can go quick when you've got people asking for $25,000, $50,000, $100,000. And these are great asks; there's a huge need. And you think, wouldn't it be great if we could make that happen?"
They have their work cut out for them when it comes to deciding.
Funds benefit Whatcom, Jefferson, Kitsap and Clallam Counties – all the way out to Forks. "As you can imagine, it can go quickly," explains Wills. "As the years have gone by, the applications have gotten greater, harder and better."
Any charity located in a town that has a full-service First Federal branch is invited to apply.
Whatcom County charities have made strong showings competing for these grants, even up to the $100,000 mark. PeaceHealth St. Joseph Medical Center, for example, received funds for new monitors in its cardiovascular unit that will lower the radiation exposure of doctors and nurses. And in 2017, Northwest Youth Services received $25,000 for homeless and at-risk youth.
Bellingham Food Bank received $10,000 to install an emergency generator, while the Assistance League received a $5,000 grant for their Operation School Bell program, providing school supplies, coats and other necessities for local kids. And, of course, the Whatcom Dispute Resolution Center has just been awarded $50,000.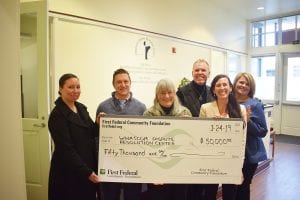 Parker says WDRC is an exemplary choice because they ask themselves how they can uplift the community. "If we put our dollars behind that, we're helping so many," she says. "And that's really pivotal for us in our decision making."
Applications are open until March 1, for a cycle that will fund in May or early June. The next cycle will open back up on July 1. Wills encourages more organizations to apply. "We want people to apply," he says. "We want them to be aware of it, to feel like they can take advantage of this. It's why it was created."
This year, they're hoping for even more applications. Although that makes the choices additionally difficult, it also makes the whole process more rewarding. "This is such a do-good, feel-good part of our community bank," Wills says. "We just love it."
Sponsored