Self-care can be tantamount to happiness and a sense of well-being. Whether for yourself or as a gift to someone else, who doesn't love to just feel pampered sometimes?
Zazen Salon Spa, nestled along Bellingham Bay right next to the Hotel Bellwether, offers everything a local – or a hotel guest – could ever dream of to feel luxuriously spoiled: from complete hair care, waxing and eyelash extensions to manicures, massages, infrared saunas and much more.
A total retreat for your mind, body and spirit, Zazen is a high-end, full-service salon and spa – with reasonable prices in line with other local options. What you won't find anywhere else is the feeling that comes over you as you step through the door: upbeat hair salon in the front, and further into the space, a relaxation area and hidden gem of a spa, with calming and peaceful massage rooms. Behind that is a pedicure room, with three chairs and two manicure stations.
Husband-and-wife team Marvin and Lannea Riggs purchased Zazen at the beginning of 2018, taking over the established business, which first launched in 2000.
"I had been a client," says Lannea, "and I already loved their services and skin care lines. When it came up for sale, we knew we had to jump on the opportunity. It's been such a great experience."
Marvin, a Bellwether Real Estate broker, spent seven years as the membership director of a local nonprofit. Lannea, a registered nurse for 16 years, also has her real estate license. The couple both still enjoy their original careers, and happily juggle management of the salon.
"Along with taking care of other people, I love taking care of myself and helping other people take care of themselves, too," says Lannea.
For Marvin, the salon is a wonderful way to keep in touch with the many business contacts he's made through his years of building relationships in the community. "Because everyone needs the services that we provide," he says with a smile.
The couple leads a team of talented, friendly, experienced providers who all share a common goal for each person that walks through the doors: "We want them to leave feeling good about themselves," says Lannea.
Hair
Zazen offers expert haircuts and styling, which includes color and highlights, texturizing, conditioning, and extensions. They also offer balayage, a highlighting technique that creates natural texture.
Hair stylist Barbara Stone has been working her magic since the late '80s and likes to get a "snapshot" of each client, by getting to know them. "I see my job as a combination of art and technical ability," Barbara says, and she loves the creative outlet it provides.
Zazen offers wedding and special-event hair and makeup – and will even travel to the customer. "That helps separate us from a lot of other places," says Lannea.
Nails
Zazen describes their nail care as "glamour and relaxation" rolled into one. They offer several styles of manicures and pedicures, including those that withstand travel and sports.
Nail tech Shannon Bedard has a fantastic reputation with her clients and often adds "extras" to her services, like hand massages. She's even received Christmas presents from repeat customers. "I adore all of my clients," she says. "I feel like they're more my friends than my clients, and that's why I love working here."
Esthetics
Estheticians specializes in facials, aromatherapy, hair and skin care, makeup, and more. Facials, waxing, makeup, lash and brow tinting, and lash extensions are all part of Zazen's offerings.
Jenn Becker is a master esthetician and lash artist. Her goals with every client are treatment, maintenance, and prevention.
"I find that just simple things, such as facials or even lashes, can bring out youthfulness," she says. "Whatever you can do without going under the knife, I'm trying to promote that."
Becker works closely with clients by educating and explaining each step of a procedure. She says she often greets new clients with a handshake, and then parts with a hug.
Massage
Your body deserves pampering, too. Zazen massage services include stone, jade, Swedish, deep tissue and more. They even offer pregnancy massages with a special pillow that allows the mom-to-be to lie comfortably on her stomach.
Staying at the Hotel Bellwether? You can request a massage – or a couples massage for you and your partner – and enjoy the experience right inside your suite.
Maddison Post, a licensed massage therapist, loves working at Zazen. "I love the atmosphere and I love being on the bay. It's a calming place to work."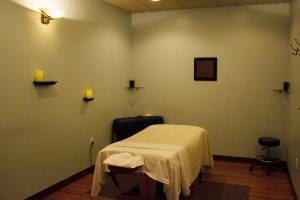 Guests are encouraged to arrive 15 minutes early for treatments and enjoy Zazen's relaxation area, complete with a robe and drink.
Need a gift idea for someone special? Zazen offers an array of packages, any of which make the perfect, indulgent gift. "We do a package that lasts four hours and includes a spa lunch," says Lannea, "and we can customize nearly any spa experience."
You'll even find infrared saunas at Zazen, which have their own health benefits. "It can be detoxing," Lannea says of the sauna, "and a lot of people who have different forms of arthritis come in and use them. It's really healing to the body."
In 2018, Zazen won the silver award in Bellingham Alive's Best of the Northwest contest. This goes to show how highly regarded the salon and its team members are. "Our clients love coming in," Lannea says. "They come back, and we get so many referrals."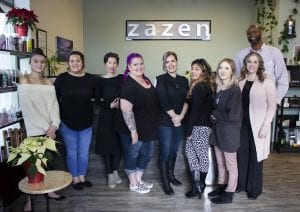 Zazen Salon Spa goes above and beyond to make sure every client feels special. It's truly something to experience firsthand. For more information, call or visit their website – and prepare to be pampered.
Zazen Salon & Spa
11 Bellwether Way, Suite 102 in Bellingham
360-715-1050
Hours:
Monday through Friday: 9:00 a.m. to 7:00 p.m.
Saturday: 9:00 a.m. to 6:00 p.m.
Sunday: 10:00 a.m. to 4:00 p.m.
Sponsored