The bold blue and white storefronts of DeWaard & Bode, The Appliance & Mattress Giants, are large and distinct – and chances are you've seen it off of Meridian.
What you haven't seen is what the company calls its "give back culture." Since first opening their doors in 1946, the owners of DeWaard & Bode have put millions of dollars back into the local community without ever asking for press or notoriety for their charitable contributions.
"We feel that being a local company is more than providing a service, it's about being an integrated partner of the community," says Jake Bassett, Director of Marketing at DeWaard & Bode. "That's an important part of our mission."
The give back culture holds strong as a central nerve running through the company and is still gaining speed today. "The owners care deeply about the people in our community and strive to benefit organizations who prioritize homelessness, food insecurity, and child/family welfare," says Jake.
This winter, the Lynden Community Senior Center desperately reached out with a request. "The organization is already struggling to fully fund the meal program, so when their 20-year-old washer broke down, they were devastated," says Cathi Cocq, Senior Center Manager at the Lynden Community/ Senior Center.
The program serves 60 to 70 meals daily to hungry seniors, for many of whom this is the only meal they eat each day. The washer is crucial to the Center's operations, providing sterilized dish towels and aprons to employees. "DeWaard & Bode stepped in right away to donate, deliver and install a brand-new, quality washer that would help them sustain the operations of their program," says Cocq.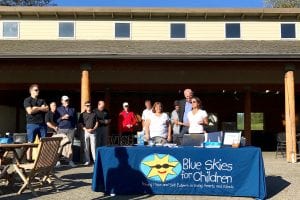 In the early 2000s, DeWaard & Bode began donating to a spotlighted charity every month and in recent years have gone from contributing to charities to actively participating in philanthropy, hosting fundraisers and events.
"Our mission towards spotlighting charities has gotten more focused and a little bit more exciting with energy and more collaboration," Jake says.
Every other year, DeWaard & Bode hosts a golf tournament with a buy-in, raffles, and giveaways. This is a fun and entertaining event for employees and vendors, with all proceeds benefiting a chosen charity.
The most recent golf tournament hosted Blue Skies for Children as the chosen beneficiary, a local non-profit benefiting low-income children in Whatcom County. The event raised $15,000.
The DeWaard & Bode company specifically donates to human service-based charities helping people and communities in a variety of ways.
"We've done a lot of partnership work with local police departments, firefighters, schools and other public service organizations," says Jake. "It's part of the mission that public services are here to take care of us in the worst states and conditions." And in return, the company gives back to help them.
The appliance and mattress giants have raised money for the Bellingham Food Bank, Lighthouse Mission, Lydia's Place, and the Salvation Army. They believe that to be a part of the community, they need to give back to the people who have helped them become the thriving, local, family-owned business they are today.
A particularly special aspect about the give back culture is that customers help without ever knowing about it. When DeWaard & Bode technicians install a new appliance, they'll take the old one off your hands. This is then passed on to the warehouse, where it's either refurbished or, if it can't be saved, it's recycled. The recycler then pays cash and rebates to the store for the steel.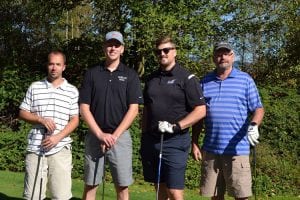 "Any revenue we gain from steel recycling goes directly into our charitable organizations budget," says Jake.
"We're an environmentally clean company," he continues. "We recycle and take a lot of pride in keeping our operations environmentally friendly."
Jake knows that folks can buy appliances in a lot of different places. "But we don't just sell appliances,' he says. DeWaard & Bode sell an unmatched level of customer service that keeps customers coming back. That service is what allows the give back culture to thrive in building community, second chances, and giving help to children, seniors, and those experiencing hunger and homelessness. They take care of those who take care of others in the public service sector.
After donating for over 70 years, DeWaard & Bode have created an undercurrent of funds for non-profits allowing them to serve others and create a thoughtful and thriving community for the rest of us.
Stop by one of DeWaard & Bode's three locations in Bellingham and Burlington.
Sponsored