If you're looking for a taste of the exotic, stop by the Bellingham Farmers Market and pick up some delicious olive oil from Dimitri Olive Farms.
"I'm first generation here, but my uncle and my mom were born on the farm in Greece, in a village just south of Sparta," says Maria Stavrakas. "We cook a lot and we would have a lot of company, and people often raved about how good the food tasted; the simple answer was the olive oil."
Stavrakas and her husband, Jonny Lane, brought cans of olive oil to Bellingham in their suitcases. On the East Coast, her family imports it from family farms in Greece. After so much interest from friends, they decided to bring the business west, as an enhancement to their other company, Dandelion Organics, a fruit and vegetable delivery business.
Since Stavrakas has family ties to the region, she knows first-hand where her product comes from. Dimitri Olive Oil is 100 percent pure, straight from the source, utilizing a particular region and variety that is rarely found in the U.S.
Lane recommends using his oils for a finishing flavor at the end of a pasta dish, in salad dressings and as a dip for fresh, high quality, rustic bread.
Stavrakas and Lane import the olive oil and infuse it with a variety of herbs also imported from Greece, except during the growing season in Bellingham when they use fresh, local herbs from small farmers. Next, they label and sell their oils at the Bellingham Farmers Market.
"I recommend everything with the olive oil," Stavrakas says. "It makes everything taste better: a finish for soups, drizzled over potato leek soup or lentil soup, roasted vegetables, roasted with olive oil or on top of salad with French lentils. Lemon and roasted garlic is the most popular."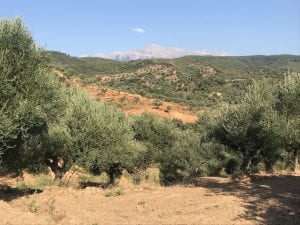 Marketgoers are also excited about the olives themselves. Nafplion and Kalamata are some of the favorites brought back from Greece by Stavrakas. "Stuffed olives with carrots, roasted red pepper and roasted garlic, and a country mix with traditional Kalamata olives, cracked green olives infused with lemon and colossal green royal; all olives are infused with Dimitri olive oil and organic herbs."
Greek olives are firm. They burst in your mouth and hold up with a crunch. They're wonderful to marinate or add to a cheese plate, pasta or salads. But the very best way to taste their texture and flavor is by themselves, when you can truly appreciate their old-world charm.
In Greece, olives are a way of life. They're served as a side with every meal and come free at restaurants. If you've ever been to Greece and miss the fresh hardy olives with large bright flavors, Dimitri olives will bring you back.
Dimitri olive oil is "a super-premium olive oil; it's one of the best regions in the world for growing olives and produces one of the best, most flavorful olive oils in the world," Stavrakas says. "It's unique and we're able to bring it to our customers here in Washington State. It's special to offer it at the farmers market and it makes a great edible gift."
Keep Dimitri olives and olive oil in mind for your Christmas gifts; they're great on their own or to class up a gift basket. You can find them at the Bellingham Farmers Market or, they'll deliver to your home.
Sponsored