It's that time of year again; the leaves start to fall, the weather shifts, the days get shorter and the beer gets darker. We tend to replace our saisons and lagers with porters and stouts, and instead of adding seasonal fruits to our brews, we opt for anything pumpkin. But it's the Pacific Northwest, so we're bound to still have some IPAs lying around, right?
Sample all kinds of craft beer at Bellingham Sportsplex's 3rd Annual Hoptoberfest, from seasonal variations to flagship stalwarts. On Saturday, October 20, over 25 breweries will provide more than 50 types of beer and cider for you to enjoy. Pouring starts at 5:00 p.m. and the event lasts until 10:00 p.m. A VIP option is available for purchase, which gets you into the event at 4:30 p.m. Tickets for general admission are $20 in advance and $25 at the door, while VIP tickets are priced at $35.
This year, the Bellingham Sportsplex is partnering with ReBound Families and Whatcom Sports & Recreation. All proceeds from the event will go to these two local nonprofit organizations.
ReBound Families helps Whatcom County families trying to recover after experiencing traumatic or stressful events. More specifically, they reach out to high-risk youth to ensure patterns of abuse do not continue throughout their life.
Whatcom Sports & Recreation provides safe and healthy athletic programs to Whatcom County youth. Their mission is to provide the community with unique recreational opportunities.
Whatcom Sports & Recreation Director of Community Relations, John Ayre, says local breweries and food trucks will be featured at the event. Beer from Aslan Brewing Co., Kulshan Brewing Company, Boundary Bay Brewery and Illuminati Brewing Co. will be poured, while food will be provided by Jalapeños and Something Cheesy. Hempler's will also have a collection of smoked meats available for purchase.
Hoptoberfest is a full-blown party, featuring live music from Sunset Superman throughout the night. They'll provide the perfect soundtrack to your tasting experience.
Many people understand "Hoptoberfest" to be a play on the German festival of "Oktoberfest," but what exactly is Oktoberfest? How did it start and why has it become such a popular motif in the American brewing community?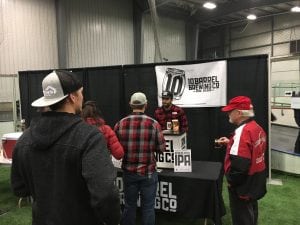 To understand Oktoberfest, we first need to learn a little history. Oktoberfest is a type of Volksfest, which in German refers to a large beer or wine festival typically including other activities.
Okay, so Oktoberfest is a fair, a party, a festival, but what's significant about it? Why is it important? The answer is fascinating.
On October 12, 1810, King Ludwig I, whose reign in Germany lasted from 1825–1848, married Princess Therese of Saxe-Hildburghausen. Ludwig and Therese invited all citizens of Munich, Bavaria and Germany to attend planned festivities held on the vast fields outside the royal grounds. This key historical event marked the beginning of the Oktoberfest tradition, which over time turned into the 16- to 18-day festival it is today.
Throughout the 1800s, many additions were made to the festival and Oktoberfest became more of a public event. In 1819, it was officially declared an annual event. The turn of the 20th century saw an increased emphasis on beer, which would only continue as the years went on. In 2017, 7.5 million liters of beer were consumed at the 18-day festival.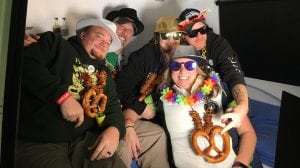 Breweries throughout America saw Oktoberfest as a great opportunity to celebrate German beer, the fall season and social camaraderie. At Munich's Oktoberfest, there are strict laws on what beer can be poured; you wouldn't see any Northwest IPAs there, that's for sure. That's how Hoptoberfest is different – that, and the fact that we'll likely fall a smidge short of pouring 7.5 million liters of beer.
Oktoberfest is a great model for any beer festival to follow, with emphasis on community strongly rooted in its tradition. The Bellingham Sportsplex's Hoptoberfest embraces that same element, making it fun for all. The 3rd annual Hoptoberfest is sure to be a blast.
The Bellingham Sportsplex is located at 1225 Civic Field Way in Bellingham. Tickets for the third annual Hoptoberfest can be purchased at bellinghamsportsplex.com/hoptoberfest.