Submitted by: Village Books
Village Books will welcome Seattle-based author Frances McCue to the 6:30 p.m. Tuesday, September 4 Chuckanut Radio Hour to discuss her new book of poetry, Timber Curtain, which charts an artist's dialogue with erasure and gentrification of her city. Although the book takes place in Seattle, its messages about a changing community will resonate in Whatcom County. The Radio Hour is recorded at Heiner Theater on the campus of Whatcom Community College. Tickets are $5 and available at the door, at brownpapertickets.com or at Village Books in Fairhaven or Lynden. Receive a free ticket with the pre-purchase of Timber Curtain at Village Books.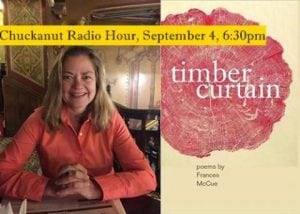 McCue has been a popular Chuckanut Writers Conference faculty member. Conference coordinator and Western Washington University faculty member Kaitlyn Teer will interview the insightful, wry McCue at the Radio Hour.
A 2018 Washington State Book Award finalist, Timber Curtain starts with the demolition of a house, Richard Hugo House, the Seattle literary center where McCue worked and lived. The poems were originally written as narration for her forthcoming documentary Where the House Was, but these cinematic poems engage with the material on the page and the fantastical, interwoven vision as only a book can.
McCue is a poet, essayist, reviewer and arts instigator. From 1996-2006, she was the founding director of Richard Hugo House in Seattle. In 2011, McCue became the first writer to win the Washington State Book Award for one book (The Bled, a poetry collection) and place as a finalist for a second book (The Car that Brought You Here Still Runs). The Bled also won the Grub Street National Book Prize and was a finalist for the Pacific Northwest Book Award.
The September 4 Radio Hour will also feature participants from the Whatcom Dispute Resolution Center's Youth Peace Poetry Contest.
About Chuckanut Radio Hour
The radio variety show is marking its 11th year of broadcasts. Each Chuckanut Radio Hour includes guest authors, musicians, performance poet Kevin Murphy and episodes of "As the Ham Turns" serial radio comedy, not to mention groaner jokes by hosts Paul Hanson, Kelly Evert and announcer Rich Donnelly. The Chuckanut Radio Hour's first guest author was Erik Larson and has since included Alexander McCall Smith, Elizabeth George, Cheryl Strayed and Tom Robbins, among many others. Tickets for the Chuckanut Radio Hour are $5 and are available at Village Books and BrownPaperTickets.com. Receive a free ticket with pre-purchase of Timber Curtain. The Radio Hour airs every Friday at 7:00 a.m., Saturday evening at 7:00 p.m. and Sunday at 9:00 p.m. on SPARK RADIO, KMRE 102.3FM.  Co-sponsored by Whatcom Community College Community and Continuing Education, 12th Street Shoes and Westside Pizza.