Summer is a season of abundant delight. Flowers burst from every garden, trees blow in the warm breeze, and people read in every park. Whether they're tucked beneath a wise old oak or splayed out in the sun on their favorite picnic blanket, readers are out and enjoying all the gifts books have to offer.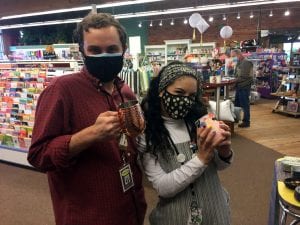 No one understands that better than Paul Hanson, Kelly Evert, and Sarah Hutton, owners of Village Books and Paper Dreams, the beloved literary and community institution in the heart of Fairhaven. All of them look to the upcoming season with hope, anticipation, and book recommendations to keep you company on your summer adventures.
"This summer is expectantly, and hopefully, going to be a lot better than the last," says Hanson. "Last year was nothing like we expected, of course. We're looking forward to more of a real summer."
"I've been putting on vaguely pink tinted glasses," Hutton adds, with a laugh. "Folks are getting vaccinated and being conscientious. Our staff has done a great job of keeping things clean, wearing masks for full work shifts. It'll be nice as we're able to step away from that a little, and customers are looking forward to it, too."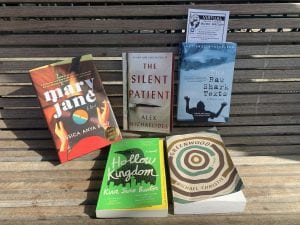 Although there's plenty to look ahead to, there have also been profound moments of joy and connections this past year for the Village Books crew. "We had a grandma meet her granddaughter for the first time in the store," Evert recalls. "The baby was walking; it had been a whole year already. Some folks are just now going to their first restaurants and stores. We have people coming in saying, 'This is the first place I came! Thank you.'"
Evert has noticed a shift in the things customers are buying. "Last summer, we sold a lot of candles, which is unusual…and jigsaw puzzles. I think a lot of people were just doing jigsaw puzzles by candlelight in their houses. But this summer, it's drinkware and travel bags!"
She's especially excited for upcoming summer reads and events. "Hollow Kingdom is a book by Seattle author Kira Jane Buxton. It's a post-apocalyptic story told by a crow in Seattle. There's this mysterious pandemic that turns people into zombies, but the animals don't get it, so they have to take over. The book is really fun."
This September, Kira Jane Buxton will be on the Schooner Zodiac for a three-day tour with those interested in literature on the high seas. "She's a real hoot!" Evert says of Buxton. "Her follow up, "Feral Creatures," is coming out this summer, and it's just as funny."
The upcoming season will also usher in a transition from virtual to in-person book groups. "Kelly and I host the General Literature Book Group," says Hanson. "Our July book is the "Raw Shark Text." I always think of summer as a time when you get to read what you want. We're reading books that are brain nutrition and also brain candy. There are books to get lost in as well, like Michael Christie's "Greenwood.""
Michael Christie is a British Columbian author, and "Greenwood" will be the 2022 Whatcom READS book. "Talk about full circle," Hutton says. "Whatcom READS was the last event we had in 2020. It's such a time marker. And hopefully, next year we'll finally have the doors open to Canada."
Hutton just finished Stacey Abrams' "While Justice Sleeps," and Evert recently enjoyed "Mary Jane," a coming-of-age story in the eighties. The team is also excited about Mandy's Book Club with KAFE Radio. "Mandy does her book club via Facebook," Evert says. "She's on the air at 4 a.m., so could never go to other book clubs. The June book is "The Silent Patient," a debut thriller that's a little Hitchcockian, a little Agatha Christie."
Hutton, Evert, and Hanson all notice the important role books play in peoples' lives. Some readers are educating themselves about social issues, others are reading about pandemics ("We sold so many copies of "The Great Influenza!"" Hanson exclaims), while others still are going for entertainment, something friendly and light.
"It's about interconnectedness," Hanson says. "Where were people able to get that? Zoom meetings? The news? Or walking a mile in someone else's shoes, whether through fiction or nonfiction, and finding ways of connecting with humans and humanity."
"People can shop anywhere," he adds, "but what they look for from us is that connection and community."
The Village Books team knows better than most that the local economy isn't stewarded by businesses alone. It's a reciprocal relationship that makes customers not only keep their dollars local, but also cultivates their sense of belonging and home.
"During COVID, when places were shutting down and closing, people began to realize that if you're a fan of a restaurant or business, if you don't go there, they could go away," Hutton says. "People honored the businesses in our community so that they'll still be here when we're coming out of this. Summer is going to be that homecoming."
Sponsored