Podcasts are a source of entertainment on the go. Like radio, podcasts present unique voices and stories for your listening pleasure. Anyone can do it, and many in Whatcom County have started their own shows. Here's some of my personal favorites.
The Bellingham Podcast is a variety show focused on technology, travel, gear, outdoors and local news. Hosted by photographer AJ Barse and technologist Chris Powell, the show talks gear and apps, discusses their favorite watches, recommends local hikes and more.
Barse and Powell started the show as Bellingham Podcast Media Tech, focused on tech and their opinions of it. Both were tired of tech's "echo chamber" mentality with new products. One day, Powell got "fed up" with how media reported on a new smartphone – the exact same praise, the exact same way, all across the board. Barse, experienced with podcasting and ham radio, jokingly warned Powell he might put a microphone in front of him. Powell accepted the challenge and the podcast was born.
Not just tech folk, they later expanded their show to include Bellingham lifestyle. Barse and Powell often go out in the community and record where people can see and talk to them. Their setup consists of two iPhones and two microphones. They're often in their favorite coffee shops and have even recorded on mountainsides. Background noise is sometimes a staple of the show.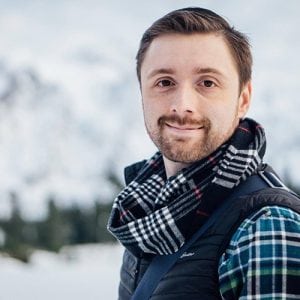 "You're getting the City of Subdued Excitement in sound," Barse says.
The show is also available on-air via radio on KMRE 102.3FM.
Perfectly Acceptable Podcast is a hilarious comic book review show by The Comics Place in downtown Bellingham. Comics Place owner Django Bohren and manager Jeffrey Figley host the show. Together, they review new releases and rib each other in between.
Other Comics Place employees join in often, including Roman Stadtler (who, Bohren describes, has "the last 200 years of comics in his head just ready to go at any given second") and Braden Smith ("Easily the funniest of all of us, but that burden is hard to bear").
Figley, who always wanted to start a podcast, suggested the idea to Bohren. Figley talked about it often until Bohren set a starting date. Little things like that are why they work well together, Figley says.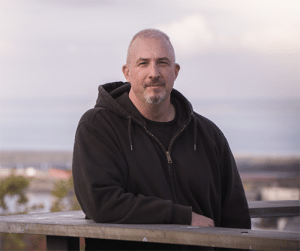 "The older you get, the less and less time there seems to be, so it takes a lot more intention to get a thing done, and I'm particularly bad about that," Figley says.
"And I just have no respect for anybody's time, including my own," Bohren jokes.
The name, they joke, was "workshopped until it wasn't good." Bohren often describes things as "perfectly acceptable," hence: a Perfectly Acceptable Podcast.
Part of the show's inspiration came from Figley and Bohren wanting to share their comic book knowledge. The show is also a way to bond with each other outside the store. Most episodes (at least 35 percent, they've judged) involve tangents and attempts to make each other laugh.
"It's definitely one of the best parts of the last two years of my life," Figley says.
Chef Talk is food for the ears. Laura McWilliams, a chef and health coach, travels around Whatcom County interviewing chefs and sharing their stories. Each episode is a one-on-one discussion with a local chef, discussing their food and what it's like to work in the industry.
McWilliams has worked with food most of her adult life and loves podcasts. She came up with the show to create visibility for those who work in kitchens around Whatcom County. It's a way to talk about what work is like in the back of a restaurant.
"I was looking for a way to connect the local community of kitchens, connect them with each other and with me," McWilliams says. "I wanted to get to know the people who were running the restaurants. You don't get to meet them very often!"
McWilliams has interviewed chefs from Aslan Brewing, Mount Bakery, Kombucha Town, Ciao Thyme and more. Usually, she records the conversation on her phone and edits entire episodes herself. It's difficult to keep up with sometimes, she says, but she plans on more "fun stuff" for the next season. One idea includes a blind chocolate chip cookie tasting – yum!
Spark Science is a STEM podcast exploring human curiosity with a sprinkle of pop culture. Astrophysicist Dr. Regina Barber DeGraaff hosts the show and talks with scientists about their work, humor and struggles.
Three years ago, DeGraaff was approached by KMRE to create more local radio shows. Partly inspired by StarTalk, a radio show by Neil deGrasse Tyson, her goal was to create a show that makes science less intimidating – to effectively "translate" science.
"I've learned how to interview a scientist, how to be that translation between hard science and the public," she says. "Because sometimes you have to have somebody to break down the jargon or direct the conversation in a way that's more compelling and more relatable."
DeGraaff has talked science and pop culture with dozens from a variety of fields, from astronauts, neuroscientists, science fiction authors and even comedians like Ryan Stiles.
DeGraaff also teaches at Western Washington University. Over time, she compiled a crew of students to help her with the show. It's hard to keep up with making episodes, she says, but it now runs "kind of like a machine."
A few years into the show, DeGraaff began a science communication class. Students can know the science, she says, but not know how to properly convey it to those who don't understand the terminology. Like Spark Science, she teaches students how to talk about science in an accurate, relatable way.
Movie Babies is a uniquely hilarious podcast that reviews movie trailers. Roommates, former amateur trailer makers and self-described "boobs" Devin Spencer and Sean (who preferred not to give his last name) host this creative show.
A trailer, Spencer says, is like a movie's baby. The pair talk trailers each episode with both comedic commentary and critical questions about film itself. At the end of each discussion, they judge if the trailer sells them on a trip to the theater. Spencer and Sean are both passionate about film. The idea for the podcast was born out of a conversation at Seattle's Cinerama waiting for a 70mm showing of Aliens.
Sean helped create Trailer Wars, a film competition that challenged filmmakers of any experience to make a fake movie trailer based on rotating themes. Spencer soon joined Trailer Wars with Funky Dynamite, a blaxploitation trailer shot in a friend's basement.
"I was heavily involved as well, so when Trailer Wars came to its own natural conclusion, Movie Babies was born from the ashes," Spencer says. "We wouldn't say we're qualified to judge what makes a good movie trailer but we definitely know what makes a bad one, with plenty of experience making them ourselves."
Sometimes, they bring in guests. This includes a "residential Rock expert" on all things Dwayne "The Rock" Johnson, and even an "actual scientist" for Jurassic World: Fallen Kingdom.
"Our show very much feels like hanging out with your friends," Spencer says. "You've just seen a movie at the Pickford and you're lingering out in front discussing it and cracking wise. That's our show."
As Spencer and Sean say: if you don't have time for a two-minute trailer but do have time for an hour-long podcast – Movie Babies is your show.