In third grade, I did a five-day backpacking trip crossing Cloudy Pass and the Pacific Crest Trail (PCT). I remember vividly a bright and beautiful day advancing toward Lyman Lake looking north to the Pacific Crest Trail and asking my dad, "Where does that trail go?"
"All the way to the Canadian Border from Mexico," my dad understatedly described. I was in awe. Later in life, I've crossed and hiked portions of the PCT from Mount Hood in Oregon to the North Cascades in Washington. The book, Wild, followed by the movie, Wild, by Cheryl Strayed brought the PCT into the mainstream. Before that, articles in Backpacker like The Unbearable Lightness Of Being Scott Williamson described the trail in details powerful yet distant.
As a family, we travel to Methow Valley often and whenever we see PCT'ers wanting a ride up or down from Rainy Pass, we try to help them out. Their stories are interesting and sincere. As they are nearly finished with the 2,600-mile journey they are often on a cloud and simultaneously in a daze. They also generally smell!
By a stroke of luck, my family's favorite pizza place, Rudy's Pizza, was the host of an end-of-season soccer party. The front counter person had a PCT tattoo on her forearm. I had to ask for details. Her reply, "Yeah, I've done the PCT four times." FOUR TIMES! I had to know more.
Her name is Amanda. Her trail name is "Not a Chance." Amanda understatedly says, "Billygoat has done it 10 times. Scott Williamson yo-yo-ed it in a year." OK, so you're not the world record breaker but still, 2,600 miles four times!? "The second time I had to quit at Snoqualmie Pass," she says, downplaying her experience.
Amanda grew up in Perry, Ohio. Perry has a power plant that powers Cleveland and if you're from there, that's what you did; grew up and worked in the power plant. Not Amanda. Amanda recalls seeing an atlas with a photo of Mount Rainier on it and saying to herself, "I gotta get out west."
So, at 15 she moved west and attended North American Wilderness Academy in California and later Steamboat Mountain School in Colorado. One of her teachers said she should visit Bellingham so she did and soon after moved here to attend Western Washington University. Studying Philosophy, hiking and snowboarding, she graduated in 2008. That same summer she hiked the Bridge Creek trail portion of the PCT south from Rainy Pass and the North Cascades Highway. She ran into a guy with a small pack and asked, "where did you come from?"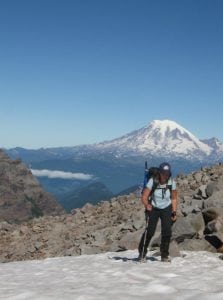 "Mexico," he replied. Curiosity led her to investigate the PCT.
2009 was Amanda's first PCT year. Her trail name, "Not a Chance" came from a boy she met within the first 100 miles who creeped her out. The name also comes from her inconsistent start with many of her fellow PCT'ers thinking she didn't have a chance to finish. But she did! On October 9, a few days after she passed new snowfall on Snoqualmie Pass, she completed the trail. She was one of the last to finish that year before heavy snow fell.
In 2010 she met a young man, fell in love in February and by April was hiking the PCT again with her new boyfriend. That was the year she called it quits on Snoqualmie Pass.
She took a one-year break, working at Rudy's and was back on the trail in 2012 with her boyfriend. They successfully completed the entire trail. In 2013, she broke up with her boyfriend and, to get over her lost love, she hiked the PCT again, alone in 2014.
What in the world drives her to hike the PCT four times? "The comradery," she quickly explains. "The trail and people you meet provide unimaginable acts of kindness and that kindness makes you want to pass it on. It's infectious."
You also must rely on strangers. "I was caught in a four-day rainstorm in the Sisters Range, Oregon. My tent wasn't seam sealed and water came pouring in," she describes. "I was hypothermic. I had to do something!" She had to invite herself into a stranger's tent and for three days huddled in it. "You can't tell my wife we did this," the man said to her as the storm ended. Nothing happened, but the closeness needed for survival grows a bond that cannot be denied.
She's met a cast of characters on the trail. In 2009 there was "Carhartt" who wore heavy cotton t-shirts and carried 6 hardbound books about Buddhism. "He had the heaviest pack," she recalls. He was a Marine and Iraq War Veteran. His PCT trip was to help him recover from what he saw.
In 2012 there was "Rust Stop." "He was a short, big, stocky guy that chain-smoked while hiking. He moved like no other person I've seen, often hiking 30 miles or more a day. He wasn't cocky; very down to earth and humble and a three-time Triple Crowner. (A Triple Crowner is someone who's done the PCT, Continental Divide Trail and the Appalachian Trail.)
"I also really like to hike in the evening when the light and shadows bring out the landscape and the wildflowers," she exclaims. I agree completely. Nothing beats a hike as the sun settles between peaks casting rays of light through the forest and shades valleys. Flowers pop with brilliance and snow patches glimmer in pink.
The trail also forces you to deal with discomfort. Amanda describes her early spring crossing of the High Sierra in California awaking to frozen boots and a tent covered in icy dew. "You slide your warm feet into a frozen boot and ignore the pain."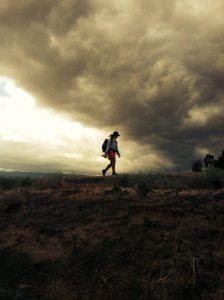 The worst part about the trail? "The trail towns, coordinating hitches and hanging out in dodgy taverns," Amanda laments. Knowing this, consider helping out a PCTer if you see them in need along our passes or in town.
"How did you navigate the trail?" I ask.
"In 2009, I used the Wilderness Press Guidebook. In 2010 I used the Five Section Maps and phone data. In 2012 I used Guthook Hikes (now Atlas Guides). In 2014 I used Guthook Hikes and ½ Miles Maps," she lists. "I can't rely on a phone completely. They can run out of batteries or get wet and then what do you do?" The trail these days is well marked but changes still occur over time.
Of late, Amanda has been exploring routes and other trails including the Grand Enchantment Trail and Bad Water to Mount Whitney Route. She hopes to hike the Heyduke Trail in Utah which links all of Utah's National Parks. This includes navigating narrow canyons, route finding and planning for water.
"What are your favorite local hikes?" I ask.
"I just did the Chain Lakes Loop," she smiles. "I did it with my boyfriend. He's from New Jersey and hasn't done much hiking. We're so lucky to live so close to these trails." She goes on to describe High Pass next to Winchester Peak, the Wye Road Trail north of Lake Whatcom and Ptarmigan Ridge Trail south of Artist Point. "We have the Chuckanut Trails right next to us, Mount Baker Ski Area and then the North Cascades at our back doorstep," she says.
"Advice on gear to bring and how to prepare?" I ask.
"Bandanas are the best," she says. "You can use one to cover sunburn, tie up an injury, hold a pee bag or wipe down a wet tent before packing it up. They cost a buck and are the handiest tool besides a supply of duct tape wrapped around my trekking pole."
She goes on to describe training. "Train with a pack and get your feet and ankles tough. When you start, be consistent and don't take many break days. I don't wear 'Patigucci' or drive a Subaru," she laughs. It's not the gear that will get you to complete the PCT, it's the determination.
Amanda has worked at Rudy's on and off since 2010. The owner, Steve, has been supportive and she's been a reliable employee, always on time and able to cover dropped shifts when she's living in town.
If you'd like to learn more, her blog is asthetrailturns.com and her Instagram is not_a_chance_hikes. I'm so glad I noticed and asked about her PCT tattoo. Amanda is a humble, kind and gracious person who's lived an amazing life. She's drawn to Bellingham, as many of us are, for its access to adventure and nature.
Got an idea for someone you've always wondered about? Maybe you already know them but think they deserve some limelight. I'm looking to get to know others that make our community a better place, a unique place, maybe even a stranger place. Drop me a line at submit@whatcomtalk.com.