Submitted by: Sustainable Connections
Sustainable Connections announced the launch of the Eat Local First Food Atlas on September 1, a new online interactive map for helping the community find local farms and food, and a robust resource for local businesses.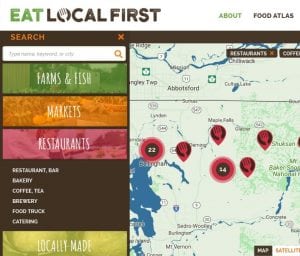 An extension of the much-loved Food & Farm Finder, the Food Atlas makes it easy for consumers in Whatcom and Skagit counties to find farms, fishers, locally owned grocers and local restaurants that prioritize sourcing locally from their mobile phone or computer.
"This spiffy new tool gives the community access to local farms, restaurants and food businesses all in one place, with an easy-to-use interactive website," says Sara Southerland, Food & Farming Director at Sustainable Connections. "We're thrilled to share it and hope it becomes a valuable tool folks can use to support a thriving local food and farming economy."
This interactive map will also serve as an extension of the services Sustainable Connections currently offers locally owned food and farming businesses by providing a concise database where all community resources can be found and easily accessed. Business will be able to both share their information on the map to promote to consumers and connect to resources such as commercial kitchens, where to buy farming inputs, organizations that offer technical assistance and where to find access to capital.
Join Sustainable Connections on Tuesday, September 24 for the Food Atlas Launch Party at the Pickford Film Center. Get a quick interactive tour of the atlas and to enjoy a selection of award-winning short films from the Real Food Film Festival.
This project was created with the help of the larger community and is the culmination of dozens of conversation with key stakeholder and businesses over the years. Sustainable Connections Food & Farming Program would also like to recognize the support of the Whatcom Community Foundation, whose support made this project possible.
What: Food Atlas Launch Party
When: Tuesday, September 24
Where: Pickford Film Center
More info: sustainableconnections.org
RSVP: sara@sustainableconnections.org