There's real need in our community – for everything from affordable housing to after school programs. For almost 100 years, First Federal has stuck by their communities through thick and thin. The First Federal Community Foundation awards generous grants and donations to relieve some of the financial strain that non-profits and charitable organizations encounter.
First Federal began their legacy as an idealistic, friendly, small-town bank. Picture the Bailey Brothers Building & Loan from the classic It's a Wonderful Life. Founded in 1923, the First Federal Savings and Loan Association survived the Great Depression while still offering loans and making community donations. Even through subsequent years of financial uncertainty, the bank has consistently made charitable giving a priority.
When the Savings and Loan Association became a publicly owned corporation in 2015, the board of directors wanted to ensure the bank's giving spirit wouldn't be lost. So, a foundation was formed. The board gifted approximately $12 million of cash and stock to open the new First Federal Community Foundation (FFCF). The gains sustained by reinvesting those funds has allowed FFCF to award over $600,000 annually to worthy causes.
"It's a huge commitment for a company that has just gone public to fund a new foundation and give that much capital," says the foundation's Executive Director, Karen McCormick. "They wanted to make sure their legacy of giving back to the community continued well into the future. That was really the emphasis behind the founding of the foundation."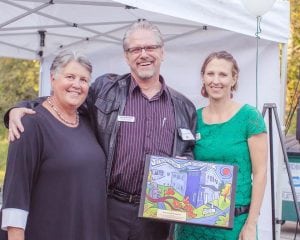 Any non-profit or charitable organization located in the same county as a First Federal branch is eligible to apply for FFCF grants. Whatcom County has First Federal branches in both Barkley Village and Fairhaven, and approximately $300,000 has been awarded to 12 local organizations since 2016 in Whatcom County alone. In total, the foundation has given $2,366,500 in grants to non-profit, charitable, government and tribal agencies in Whatcom, Jefferson, Kitsap and Clallam Counties.
"The thing we care about most is the breadth of impact," says McCormick. "How many people are going to benefit from the gift? To the extent that there isn't a broad impact, we then look at the extent to which it improves the lives of those with low to moderate income, or an otherwise disadvantaged population."
FFCF also provides Community Support grants, which offer financial aid for organizations who focus on a wide array of needs including arts, education and social services. While these non-profits typically receive smaller grants, between $5,000 and $25,000, it's a broad category with many opportunities for positive impact. Two local children's advocacy organizations, Skookum Kids and Brigid Collins Family Support Center, both received Community Support grants last year to improve their facilities. Our local Boys and Girls Club also received $10,000 for their summer lunch program.
As Whatcom County grows, we're experiencing an increased demand for affordable housing. FFCF is responding with grants that focus on this need. Affordable Housing Grants begin at $25,000 and are only limited by the foundation's budget, with preference for large capital projects that make a major impact.
FFCF gifted our local Habitat for Humanity $50,000 last year to help construct 54 new townhomes to house 120 low-income working adults and their children. "We're looking to help organizations who create decent, safe and affordable housing for those with low to moderate income, for either purchase or rental," says McCormick. "Habitat for Humanity has a very ambitious program and we are very proud to have been able to give them some of the funding they need for this project."
While FFCF focuses on gifting large grants, First Federal still gives independent donations. "This is truly neighborhood giving," says McCormick. "The bank will consider donation requests for anything between $25 and $5,000 to anyone looking for a donation, whether it's to support their local sports team or sponsorship of an event. It fills the gaps in small individual donations that the foundation does not make, but the bank itself will."
To see all the ways First Federal Community Foundation grants are used and to learn about the types of grants they offer, visit their website at firstfedcf.org.
Sponsored