Ashlyn Pickering first skated at the Bellingham Sportsplex when she was five years old. It was a friend's birthday party and afterward, she begged her mom for lessons. That Christmas, mom delivered: lessons from the Sportsplex's "Learn to Skate" program. Now, 11 years later, Pickering is skating competitively and the Sportsplex is a big part of her life.
"The Sportsplex has been a really great community for me to grow up with," says the 16-year-old Squalicum High School student. "It's always been there, throughout everything that's ever gone on in my life. The staff is really friendly. I just feel at home when I'm there."
The Sportsplex, featuring Bellingham's only ice rink and indoor soccer field, is home base for Whatcom County's Bellingham Figure Skating Club, Whatcom County Amateur Hockey  and Whatcom Speed Skating Club. It also hosts home games for the Bellingham Blazers and Western Washington University hockey teams, as well as the Bellingham United soccer team. In addition, the Sportsplex sees everything from pole vaulting practice to bocce ball games, among other activities.
"Our facility is going non-stop," says Keri Ferguson, director of the Bellingham Sportsplex Skating Academy. "There's so much opportunity for our community here."
Blades of Glory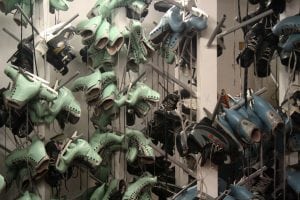 The Sportsplex has undergone recent improvements. Chief among them are the purchase of new rental skates. The new skates are made possible by a $2,500 grant from the Lummi Indian Tribe, which should allow for about 40 new pairs of skates, Ferguson says. To her knowledge, these are the first new rental skates the Sportsplex has seen in over a decade.
"They're a really nice quality boot," she says of the new skates, which are a stylish red and black. "I think people are going to be really excited to come in and try them out."
Pickering is also a Sportsplex skate guard tasked with monitoring the rink and handing out rental skates during public sessions. She's especially excited.
"The new skates offer really good ankle support and nice, new blades," she says. "That'll make it easier on new skaters."
Rink management hopes to make more new skate purchases in the future – not just for ice skating but for hockey as well.
The Greatest Ice Show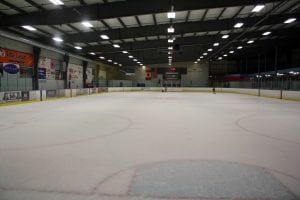 In addition to new rental skates, the Sportsplex is also generating excitement with its annual ice show, to be held Saturday, August 25. This year's show is called "The Greatest Ice Show," and features music from the 2017 musical film "The Greatest Showman," inspired by P.T. Barnum's creation of the Barnum and Bailey Circus.
The show features Pickering and the rest of Bellingham's most talented ice skaters, plus several national champions and Northwest ice aerialist SueEllen Quick. Pickering has a solo skate and is also in several group numbers, featuring many of her friends, all of whom spend their fair share of time at the Sportsplex.
"We've been working on the show for a while," she says. "We're all really excited. I think it's going to be one of the best shows yet."
Ferguson is also excited; she says the event is a fun, family-friendly event that's not to be missed. There are two performances on August 25, one at 1:30 p.m. and another at 5:30 p.m. Tickets can be purchased from the Sportsplex website and are $10 each. Children five and under are free.
Opportunities Abound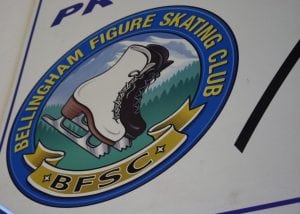 Ferguson and Pickering, along with other members of the Sportsplex's fantastic ice rink staff, play integral roles in helping community members learn to enjoy ice skating.  The facility's skating academy offers a variety of classes, camps and seminars throughout the year, including the popular "Learn to Skate" program.
"Learn to Skate" teaches a variety of skills to anyone age three and up, with camps in the spring, summer and winter for school-age children. The next camp runs December 17 through 20. Adult sessions are also offered, with no age limit. Ferguson recently watched a 76-year-old man out on the ice.
"Ice skating is a lifetime sport," she says. "So whether you start as a child or an adult, it's just an awesome experience. Gliding around the ice, it's almost like a feeling of flying."
Ferguson is a former national championship figure skating competitor and double gold medalist. She says excelling at ice skating takes discipline forged in commitment and determination, along with good instruction and a little bit of talent.
Pickering certainly meets the criteria. Splitting her time between Bellingham and Everett, Pickering practices up to three hours a day during the summer. During the school year, she'll hit the rink early each morning and oftentimes again following a day of classes, for a total of about two hours a day.
All that practicing has led to ice skating competitions across Washington State. Pickering is also a junior coach for "Learn to Skate," passing on her skating enthusiasm and knowledge.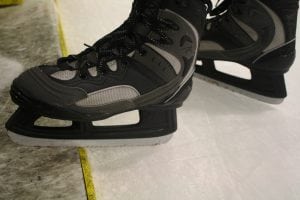 "It's awesome," she says. "It's such a great community. It's really good, helping other people enjoy the love of skating just like I did when I was younger."
Pickering wants to start giving private lessons while continuing to skate competitively. Although she doesn't see herself prepping for the Olympics, her choice of college will likely be somewhere with an ice rink and a collegiate skating team.
To those who've never ice skated, she encourages trying it, saying it's unlike anything you've ever done before.
"It's just such a freeing feeling, when you're just gliding and skating along," she says. "I would just come to a public skate and see how you like it."
The Sportsplex is open year-round. Public skating sessions are held Mondays and Wednesdays from 3:00 to 4:45 p.m.; Saturdays from 11:00 a.m. to 1:00 p.m. and Sundays from 1:00 to 3:00 p.m.
"Home School Skate" sessions are held Mondays and Wednesdays from 10:15 a.m. to 11:45 a.m. during the Bellingham School District school year, and are also open to the public. Special skating events, such as Halloween and Christmas-themed public sessions, are held each year.
Prices range based on age and session, plus the cost of skate rental. For more information, see the Sportsplex website.
Sponsored