Photographer Peter James opened his original gallery and studio on Holly Street in 2003 after a visit to Bellingham turned into a permanent stay. James, then visiting from Detroit and planning to move to Portland, was out taking pictures of the area when he stepped over the train tracks down on Chuckanut Drive, fell and broke a rib and his camera. During the ten-day wait for his camera to be repaired, James got to know Whatcom County. He became so enchanted with the region, he decided to stay.
Sixteen years after the train track incident he moved his studio and gallery out of the Holly Street location to build a stunning new space in the Orca building on Mill and 12th Avenue in Fairhaven (with grand opening festivities from 4:00 – 9:00 p.m. on August 23).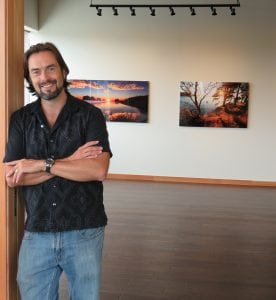 The space is expansive, bright and overlooks Fairhaven landmarks such as Village Books. James outfitted the space to suit his unique aesthetic; the gallery feels like a walk in our beloved Northwest ecosystem with a curated eye. The prints on the wall, ranging from two feet to eight feet wide with a price range of $220 to $6,000 dollars are printed on aluminum panels with a high gloss finish. These images are the result of James' trips all over the Pacific Northwest.
Listening to stories of how he captured each image is like listening to a man in love. From the Fairhaven waterfront to Lummi Island to the Olympic Peninsula—complete with a disappearing pond—James evidences the magic of the Northwest in a way which, he hopes, inspires viewers to connect with nature.
In addition to the gallery experience, James offers a full-service on-site and on-location studio prepared for family portraits, business needs and even wedding services. James' studio, once a solitary effort, now includes a team of photographers and others, including James himself, Kalie Presteen (studio photographer), Alex Pullen (wedding specialist) and Louisa Firethorne (digital design, video editing and graphics wizard). And, what's more, he says he's ready to add another studio photographer to the mix as soon as he finds the right fit. Forming a team allowed James to focus his efforts on nature photography and the gallery while expanding other areas of the studio.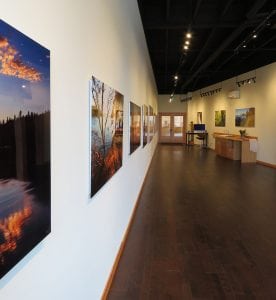 "I shot over twenty-thousand images last year and selected only ninety," James says. He printed these in limited runs of 100 per image. James' limited edition nature photography is now available exclusively printed on aluminum panels. When asked about the switch, he explained that the frame-and-glass method of displaying photographs creates a glare which diffuses the light and reduces the contrast and color of the print to such a degree that the image cannot be seen at its best. Moving the work to aluminum panels offers several advantages over other methods. The metal scales in a way which allows him to print in large format without a loss of sharpness or vibrancy so people can better connect to the work—and through the work, with nature. He wants viewers to feel as if they're present in the scene, standing in the wildflowers, listening to the trees.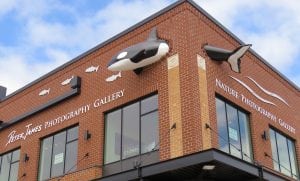 The other advantage to the metal prints is that, even at their largest, they're lightweight and can be hung on an average wall without supreme feats of engineering—something which would be impossible in such sizes for a glass-and-frame structure. The prints are waterproof; inks infused into the metal plate and the glossy coating offer both durability and stain resistance. Should something, say spaghetti, inadvertently get splashed on the panel, a soft cloth and water will clean it up easily.
James notes that a frame can be a burdensome added expense which is unnecessary in aluminum panels so excluding it means clients can afford a larger print. The mounting method causes images to seem as though they're floating on the wall, sitting not quite an inch away on hidden mounting hardware which only adds to the dreamy element of the images themselves. Prints come in standard format and panoramic.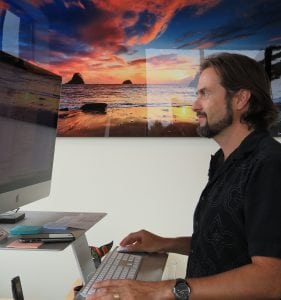 Overall, James doesn't include humans or their infrastructure in his nature work. Though he does have a nautical series which includes boats, the majority of his prints at this time focus entirely on spaces that are undeveloped. He prefers to let nature be the purpose of the work. He hopes his love of these spaces is infectious and "the gallery can act as a kind of hub for nature lovers" in Fairhaven.
To evidence this intention, for every photo James sells, he plants 100 trees through the Trillion Trees Campaign which he cofounded with his wife iMa. Additionally, to offset wood use and impact of the new space, James planted 1,000 trees.
The gallery will be open 11:00 a.m. – 7:00 p.m. Sunday through Wednesday and 11:00 a.m. – 8:00 p.m. Thursday, Friday and Saturday. If you hope to catch James himself, assuming he isn't out shooting, you can do so Tuesday – Friday from 11:00 a.m. – 5:00 p.m.