North Cascades Institute is located in the North Cascades National Park, an hour and a half from Bellingham. As you round a bend, the teal water of Diablo Lake comes into view. It's breathtaking.

It's the shade you often see in Caribbean images – a stunning blue-green with dappled shady shores. And here it is, right in Whatcom County. The water is glacier-fed and the color comes from the glacial flour (or rock flour), which results from the rock grinding to particulate against the ice. It suspends in the water causing the stunning color. The water, as you might expect, is glacier cold.
If you come to the institute for one of their many educational programs – from basecamp to family getaways to a multitude of partnerships – you're bound to learn something new. This applies to everyone equally. For example, their resident raven, Elvis, (whose mate is affectionately named Priscilla) has learned to unzip backpacks and lift out the lunch bags he knows he'll find within.
The Youth Leadership Adventures program is something special. The North Cascades Institute takes a "come as you are" approach to outdoor education and this tone allows students to feel like they can be themselves. Students come from all over the state after achieving admittance to this competitive program, where they backpack, canoe, survive and thrive in the backcountry for 8 or 12 days, depending on which program they attend.
I visited with one group just after they returned from a 12-day forest adventure, during which they completed a 14-mile round-trip hike with strenuous elevation gain rising from their base camp to Desolation Peak. The all-day trek had begun at 3:00 a.m. The hike forced them to dig deep and consider their bodies in new ways, to consider what they were capable of. This feat of endurance left many with a staggering feeling of accomplishment. They were aglow with confidence and personal achievement.
One student imagined she would tell her kids and grandkids how she thought she would never make it, that she was going to "pass out" from the strain. But after accomplishing the task – which she swore she couldn't do – she discovered her own determination and realized she's capable of great things.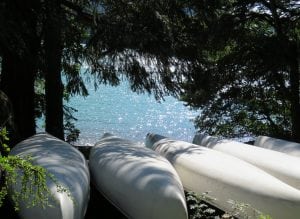 That's what this program is all about.
Trip educator Charlee Corra has earned the students' affection and respect. Those I spoke with raved about her leadership and manner. She met them where they were, never attempting to make extroverts out of introverts, and instead helped them feel more like themselves.
Corra explained that growth is not change; it's becoming more of what someone already is. The students grow but they don't really change. This concept, that everything a person can be is already present, assumes greatness. It assumes the best of everyone. How can a student help but grow under these conditions?
The program focuses on education. They teach students about the ecosystem, natural history and the importance of stewardship, in addition to providing daily leadership opportunities. Students serve as camp leader twice during their stay, responsible for organization and decision making.
The program is beautifully diverse. Sixty percent of participants are people of color and there's an emphasis on providing access to marginalized and disadvantaged communities. They work hard to include participants from all walks of life. In fact, 81 percent of participants are in an outdoor program for the first time and, though 77 percent live near the park, this is 60 percent of the students' first time in North Cascades National Park. Of the 78 participants, 50 percent qualify for free and reduced lunch programs and, thanks to generous donors and sponsors, 86 percent received scholarships. The median amount paid by the students is just $80.
If the amount of gear required to participate seems daunting, fret not; it's all provided, from hiking boots to backpacking gear. Partnerships and donations allow the institute to fully outfit every participant with high quality equipment for the duration of the program.
We were treated to clean and comfortable lodging in modern ecological buildings. The food was delicious and healthy with vegan, gluten-free and other options. Attention is given to every detail from water use to local ingredients. The mushrooms were wild-harvested, fresh and absolutely delectable. Some of the best food in Whatcom County is hiding up at the institute.
People from all walks of life can find fellowship, camaraderie and encouragement for growth at North Cascades Institute. The youth came away from the program ready to conquer the world. And after meeting these passionate, brilliant, bright people, I hope they do.