Mia Gover's cannabis career started almost by accident. In 2015, she took a break from classes at Western Washington University to work in retail in her hometown of Spokane, Washington. When Gover's bosses wouldn't approve her pink hair, she began looking for a new job. Working at a weed shop sounded fun and she was soon employed by Satori Spokane, the company's original location.
Gover also worked at a high school, which made her feel like she was leading a double life (picture Breaking Bad's Walter White). "I was just so scared that somebody's parents would be like, 'This girl sells weed! We've got to get her out!'" says the 24-year-old.
Luckily, her fears never materialized. In 2016, she became one of Satori's medical marijuana consultants, helping patients understand the medical system and get needed resources. She says the new role helped her realize marijuana's community impact beyond just getting high.
"There are real people out there who need this information," she says. "And they also need the community, because people can't do it by themselves. A lot of these people are really sick and they need an in-home caretaker or they need someone to manage their medications for them. So it takes a lot of extra help that just doesn't exist under the current legislation."
Let's Get Medicated
Washington approved medical marijuana in 1998 under Initiative 692. It allowed for the sale, growth and use of pot for certain ailments, but lacked licenses and many regulations, including accountability for pesticides, heavy metals or mycotoxins in marijuana growing.
When Initiative 502 legalized recreational marijuana and pesticide testing in 2012, it didn't make any actual changes to the 1998 law. But I-502's stringent regulations posed a threat to the majority of extant medical cannabis businesses in Washington at the time.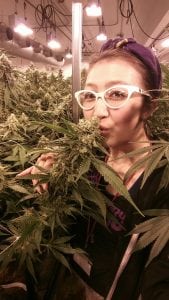 In July 2016, Senate Bill 5052 passed, integrating the medical cannabis industry into I-502. This created another issue for medical cannabis users: while patients could grow their own weed, it was still illegal to obtain plants and seeds from licensed farms.
That flaw was eventually fixed in July 2017, allowing medical marijuana patients with authorization cards to buy plants, clones and seeds directly from licensed I-502 production farms. Registered medical marijuana patients can grow up to six plants and possess up to eight ounces of usable cannabis from those plants. Satori spearheaded the effort to put medical marijuana patients in touch with marijuana farms.
Satori began contacting farms while Gover was still in Spokane. Many farmers worried about making a mistake selling to patients and, as a result, hadn't begun the process. Gover put together a document with legal guidelines and definitions, including a plant sourcing registry. Currently, nine farms – including Whatcom County's Mt. Baker Growers and Oh McDonald Farms – provide medical patients with materials.
Gover gives the document to interested patients upon request, although each person is ultimately responsible for calling the farm and visiting in-person to obtain growing supplies.
"My goal is to give people the tools they need to go and do that themselves," Gover says.
Being Mindful
Gover ultimately spent two years in Spokane during her college break. She relocated to Bellingham in September 2017 after the new Satori opened there, re-enrolling in classes at Western. Her degree program at WWU's Fairhaven College combines her background in education, social justice and creative language for use in the cannabis industry. Although cannabis education isn't an official field of study yet, Gover intends to be one of the first to focus their efforts in the area.
She's already started by establishing a new consultation room at Satori's Center for Mindful Use. Here she provides information to anyone curious if medical marijuana is right for them. To Gover, "mindful cannabis use" means using in a way that improves quality and function of life. How to achieve that experience is unique for each individual.
"Everybody's body chemistry is different," she says. "Cannabis is also a very unique plant; there's lots of different varieties that are all chemically unique, as well. It's true with regular users that every person's reaction and body are different; it's especially true with medical users, because the consequences are a lot more steep if somebody has a bad reaction."
She's noticed many medical patients also take opiates or barbiturates. These substances often sap vigor from life. Cannabis can be a catalyst to help them taper or get off those medications.
"A lot of people feel like they don't really have a choice," she says. "So, I think a lot of people choose medical cannabis for that reason; because they want to take back that control."
The consultation room is a safe space where patients – whom Gover says are often older and disconnected from the current science and culture of cannabis – can ask questions and receive information. It's also a solution for many budtenders who struggle to answer serious medical questions on the sales floor because they aren't medically certified and can't legally discuss a patient's medical history.
"As more people get interested and want to come to ground zero to learn about medical cannabis, I want there to be a private space where myself or one of the other consultants can give them full attention," Gover says.
Consultation appointments began in June and are already adding up. Gover hopes inquiries will continue to increase as more medical cannabis knowledge is given to the public.
Gover is looking forward to her senior year at Western. She plans to remain in Bellingham following graduation, continuing her work for Satori as a shift lead budtender and lead medical consultant.
"I just feel really lucky to be here," she says. "A lot of people got into this because they were patients in the beginning or they used to grow. I didn't have any connections like that in the beginning; I just was really eager to come and be part of something new."