Each year, American manufacturers send 7.6 billion tons of usable material to landfills – so much material, in fact, that it could build enough homes to fill two-and-a-half Bellinghams in a single year. But many of these materials are far from trash. Many can be reused.
This is why Bellingham's The RE Store has launched a new Manufacturing Waste Diversion program. The goal is to assist local manufacturers, at no cost to them, in keeping their waste out of landfills, allowing The RE Store to sell these items at steeply discounted rates.
Tim O' Donnell, The RE Store's program development manager, runs the new program with support from auxiliary staff. He works through Whatcom and Skagit counties to identify and contact potential participants. If a business is interested, O'Donnell performs a waste assessment to figure out which materials can be re-used.
Those materials can include off-spec raw materials to byproducts of the manufacturing process, as well as packing or shipping materials. From pre-fabricated furniture parts to pre-cast stone and concrete products, there's a wealth of possibility for waste diversion.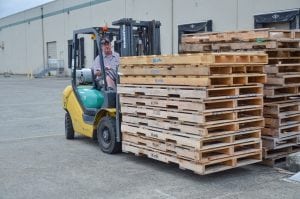 "I'm just scratching the surface," O' Donnell says of the program's potential scope. "It's pretty amazing how much is out there."
For participating businesses, the program is a no-brainer: it lowers disposal costs, saves labor costs on waste processing, frees up valuable warehouse and storage space, and provides a tax write-off for the donated materials.
The program began in 2014 with a partnership between The RE Store and Itek Energy, a Bellingham-based solar panel manufacturer. Itek was dumping hundreds of sheets of imperfect glass that failed their quality control standards, but through the program has now saved $35,000 in labor costs and disposal fees, all while allowing The RE Store to make $98,000 in sales for their Community Jobs Training Program.
The excess solar glass, some 118,000 pounds of it, has been sold to community members, finding use in outdoor showers and greenhouses, among other projects. In addition to glass, Itek is designating plastic spools, wood pallets and packing materials for future diversion.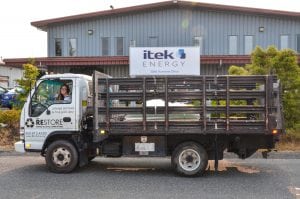 O'Donnell says four other businesses are currently participating, including a kitchen cabinet maker donating flawed cabinet pieces, a twine and rope manufacturer giving away old backstock, a furniture maker parting with odd hardwood cuts, and another goods manufacturer providing off-spec fiberglass and medium-density fiberboard (MDF).
Once the materials are picked up, courtesy of The RE Store, they're sold at very low price points to The RE Store's customers. O'Donnell says to look for the white-colored tags on materials, indicating they're from the program.
The program is supported through a three-year, $100,000 grant from the M.J. Murdock Charitable Trust of Vancouver, Washington. O'Donnell would like to add a team of people to the project and hopes, once the grant ends, the program can continue as a self-sustaining entity.  Since January, The RE Store has diverted more than 80,000 pounds of materials representing about $57,000 of value.
For local businesses, O'Donnell says the most important part is to keep an open mind to what's being designated to sit in a landfill.
"Don't assume everything is trash," he says. "I get a lot of surprised looks from manufacturers when I say, 'Someone might actually buy that piece of plastic.' Keep an open mind, give it a chance."
 Sponsored