Outdoor movies held a sort of magical quality during my childhood summers. Maybe this was because you could smuggle in as much candy and food as you wanted and nobody cared. Maybe it was because I was sharing a cinematic experience with parents and friends. Most likely, it was both.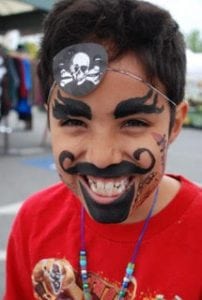 Although Whatcom County bid farewell to drive-in movies long ago, you can still enjoy a film beneath the stars at downtown Lynden's "Hot Thursday Nights" on July 26, August 2 and August 9. The three dates were chosen because they fit nicely between the Northwest Raspberry Festival (July 20-21) and the Northwest Washington Fair (Aug. 13 -18).
In addition to showing a movie each Thursday night, there will be numerous entertainment options including live music and performance art, a night market of local food and craft vendors and – last but not least – watermelon bowling.
Chuck Robinson, Lynden Downtown Business Association board member, says the idea began last summer, when four films were screened downtown on Friday nights, similar to what occurs at Fairhaven's Village Green. But with a number of conflicting events on any given Friday, the Lynden DBA chose to shift the event to Thursdays with several fun activities before each film.
"The whole idea is to create a fun time in downtown Lynden for those three nights and, in some ways, re-introduce people to downtown Lynden," Robinson says.
For live music, Lynden DBA is partnering with Jansen Art Center, which already features Thursday night performances. The center's open patio doors allow music to spill onto Front and 4th streets until just before 9:00 p.m., when the movie begins. Scrub Hubner will perform July 26, along with Terry Palmer and Friends on August 2 and Queen's Bluegrass on August 9. Other live performance art will include Bellingham Circus Guild, featuring juggling lessons and unicycle demonstrations, on July 26 and August 2, and Infinity Dance Company, performing August 2 and 9.
Performances will accompany a night market, similar to Bellingham's popular night market, from 5:30 to 8:30 p.m. Local business vendors will include: I Wood 4 You, Sarah Stamps Art, Lularoe, Grandiflora, Made by Heart, Threads by Teresa, the Lynden Tribune and Two Girls + a Bus.
Food vendors will include Chow Gourmet Hot Dogs, Sugar Shack ice cream, a popcorn booth set up by the Lynden DBA and a cotton candy booth supporting Backpack Buddies – a non-profit providing food to low-income schoolchildren. In addition, several other non-profits will be present, including the Lynden Library and Lynden Community Center (LCC). The LCC will offer a free community dinner, from 6:00 to 7:30 p.m. on August 9, for 100 people. Reservations must be made in advance.
And in case the market isn't appealing enough, Robinson says the Green Barn will likely provide a chance to use watermelons like you've never used them before with watermelon bowling. This activity has been enjoyed in Bellingham, with great acclaim.
As for the movies, they'll be projected onto the west wall of JoFish Seafood and Grill, which faces 4th Street. A parking lot will serve as the theater seating area.
So, what's being shown?
July 26 will feature "Wonder," a 2017 film about a boy with a misshapen face who wears a space helmet to conceal his physical flaws while adapting to the social challenges of his new school. "Spider-Man: Homecoming," in which Spider-Man must balance high school life with being a superhero, will play August 2. August 9 will wrap up "Hot Thursday Nights" with the 2017 blockbuster "Wonder Woman."
Robinson says the films are all family-oriented movies that can be enjoyed by people of all ages.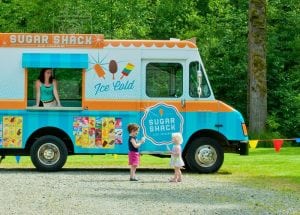 In addition, the Lynden DBA is encouraging local downtown businesses to have extended hours during "Hot Thursday Nights," with special events or deals for customers. On July 26, Village Books & Paper Dreams will hand out stickers and bookmarks relating to "Wonder," along with glow necklaces and bracelets for families who stop by before the movie begins. In addition, Hats Off will decorate superhero-themed cookies. C Street Soaps, a new downtown business, will offer build-your-own soap specials. The Lynden Pioneer Museum will also be giving special evening tours. Forge Fitness will offer social dancing, dance instruction and a performance by Rumba Northwest at their facility between 7:00 and 9:00 p.m.
"There's a lot of people in Lynden who work in Bellingham, come home to Lynden and don't get downtown in some cases, because there's not a lot of businesses open in the evening," Robinson says. "So we're thinking, at least for these evenings, to give people some acquaintance with the downtown and have a fun time down there. It's summertime and a great time to be outdoors in the whole county, but certainly up here in Lynden. It's a great time to do something downtown."
Sponsored