Submitted by: Brigadoon Service Dogs
What is better than a puppy? Their unbridled enthusiasm, their endless curiosity, and the unconditional trust and love they provide with each look, lick and snuggle. The answer is, it is hard to beat the preciousness of a puppy.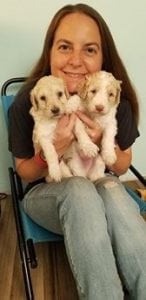 Puppyhood is an integral time in a dog's life. It is when they absorb all of the information that will make them who they are in adulthood. This time is never as important for a dog than for a service dog. As service dogs are required to accompany their handler into a wide variety of situations staying calm and composed amid crowds, noises and new experiences, starting a puppy off right is vital.
Brigadoon Service Dogs is a local Whatcom County non-profit that raises and trains service dogs for veterans, other adults and children with physical, developmental and behavioral disabilities to promote an independent and enriched life. Community volunteers are an integral part of the work they do, and one of the most important roles at the organization is that of Puppy Raiser.
Volunteer Puppy Raisers take in a Brigadoon service dog to-be for six months to a year. Their job is to lay the foundation for that puppy's journey through teaching basic skills like loose leash walking, crate training and common cues like down and sit. Most important though is ensuring that the puppy is exposed, during this formative time, to a variety of environments, people, noises and experiences.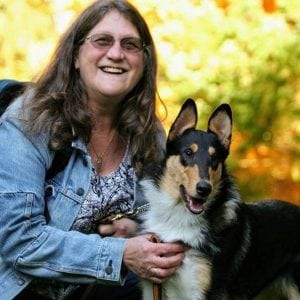 One of the main reasons people interested in puppy raising decide not to move forward is they are worried about the emotional investment they will have in the dog only to have to give it up when the dog is ready for its next stage of training. Nancy Taylor, one of Brigadoon's volunteer puppy raisers who is raising her sixth puppy, a golden Labrador named Sir, for the organization says, "I often hear from others that they would never be able to give the dog up after raising it. I always respond by saying it's hard every time. I love them but living with a disability is even harder and that changes my focus. What I am doing is helping to change lives."
While raising a puppy is hard work, the pay-off is big. Puppy raisers get the immediate benefit of having a puppy to play with, teach and love, a wonderful community of supportive and passionate puppy raisers to engage with, skill development from a professional dog trainer and the knowledge that they are molding a dog that will one day change someone's life in a deeply profound way.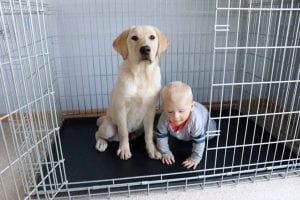 Puppy raisers are asked to provide food for their puppy, veterinary care (if possible), attend puppy raising classes and purchase and read the "Puppy Start Right" book.
For more information on becoming a puppy raiser contact Brigadoon Service Dogs at 360-733-5388 or e-mail denise@brigadoondogs.org. If you are unable to become a puppy raiser, but still want to support our work, we gladly accept donations.