At Mount Baker Theatre (MBT) you can attend a professional panel discussion one day, then don a feather boa and fishnets for the Rocky Horror Picture Show the next. You can watch stomach-churning adventure films, then revel in holiday nostalgia during a children's play. It may seem unlikely, but I did that exact circuit last fall at MBT. Our local theatre is extraordinarily flexible in its diversity of events and patrons experience the space in many different ways.
The historic theatre is Whatcom County's premier venue for everything from large touring comedy acts to our resident Whatcom Symphony Orchestra. "We're passionate about bringing world-class entertainment to Bellingham, so part of our mission is to ensure local access to professional touring entertainment," says Amy Guerra, MBT's Associate Executive Director. "Our venue is rented by commercial event promoters to host traveling shows and events, bringing some big names to our little town."
While they can draw a crowd, MBT isn't limited to big-time acts. The venue offers all levels of entertainment. With three event spaces, they effectively present anything from small author talks, to dance recitals, all the way up to those glitzy Broadway performances.
The 200-seat Walton Theatre is easily overlooked if you only attend MBT for large events. This little black box, tucked on the west side of the main theatre, can be configured in any way. It's surprisingly adaptable to events ranging from film screenings to intimate theater performances. The space is personal enough to draw audience members into the drama of the stage and – with state-of-the-art acoustics and lighting – it's also unmistakably professional.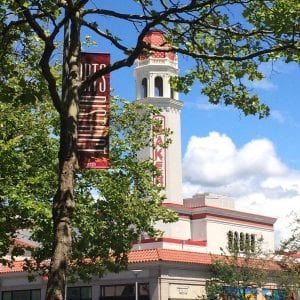 If you're headed to MBT for a small, more interactive event, you'll likely find yourself in their Encore Room. This reception hall is used as a versatile rehearsal space and for informal exhibitions by local nonprofit performing arts organizations. Thanks to MBT's Community Spaces Program, this space is free for nonprofit use.
Interactive author talks are also commonly held in the Encore Room, bringing touring writers to Bellingham. This spring, Village Books hosted such an event in the space, showcasing seven distinguished poets who performed readings from their collections.
MBT's Main Stage is known for touring music acts, local ballets and Broadway musicals, but it also hosts Bellingham's favorite film events. Several adventure film series, perfect for our local outdoor enthusiasts, come through each year. The annual Banff Mountain Film Festival is a perennial favorite. It's always a packed-house. People can't wait to see jaw-clenching, stomach-churning powder shots and big waves.
The touring Missoula Children's Theatre comes to town every summer. Their camps engage local youth in the joys of performance art and help them build social skills and confidence. They rehearse their plays over the course of a week, then perform them for the community on MBT's Main Stage at week's end.
The Wade Bennett King Education Series provides performance admission for students from regional elementary schools as part of MBT's Education Program. "The program reaches youth in five counties and we hosted just shy of 20,000 students in the 2017-2018 year," says Guerra. "Our Educational Scholarships supported over 2,100 participants who wouldn't have otherwise been able to attend, and we're committed to that program again for this upcoming school year."
Over the course of a year, Mount Baker Theatre hosts between 400 and 500 events, with over 100,000 attendees passing through its halls. With such a diversity of performances, there's sure to be something to captivate any age or interest. "It always strikes me that people only interact with this place in the context of the one event they attend," says Guerra. "The building changes look, feel, audience and purpose by the minute, and most people don't experience that if they just attend one or two certain kinds of things."
Sponsored