Submitted by: Jamie Bohnett, Owner Over Easy Café, Bellingham
Bill and Amanda came in the second day we were open, May 1, 2015, when as Bill said, "Everything was wrong." That's not surprising, as the Bellingham Herald let the word out that we were open and it seemed like half the town decided to check us out when we weren't quite ready to handle the crowd.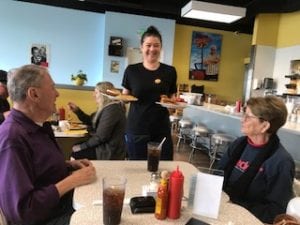 But Bill and Amanda came back again and again and again! It's no exaggeration to say that if they don't show up on one of our seven days we are open, we wonder why. They are that consistent.
Our servers know exactly what Bill and Amanda want when they sit down. They start with a Diet Coke and a regular Coke. Then 90 percent of the time the order is as follows: Amanda orders our breakfast sandwich, egg over easy, American cheese, crispy bacon and hashbrowns. For Bill, we have what we call "Bill's grill," grilled sourdough bread, bacon, tomato and American cheese. He has fruit on the side, but we replace the blueberries with a few extra strawberries for him.
With all of the choices of where to eat breakfast or lunch in Bellingham, why do they come back almost daily? "We love the servers here. They are very pleasant."
Bill and Amanda are like family at Over Easy. I joke with Bill about our political differences, lament about the Mariners never quite making the playoffs and the Seahawks' perpetual lack of an offensive line.
Over Easy Café Bellingham will celebrate being open for three years on April 30th. We couldn't imagine the past three years without Bill and Amanda Taylor!