Eggs weren't the only thing served at Over Easy in Sunnyland Square on March 7. On this day, a lone man's order of chicken and waffles came with a side of justice.
It was a typical spring afternoon in Bellingham – rainy, 50 degrees and overcast. Owner Jamie Bohnett and his staff had gotten through the brunch rush and the end of the workday was on the horizon. As they started to close down, a lone customer walked into the restaurant and sat down to order a meal. At first, Bohnett thought nothing of it, but then things took an interesting turn.
Bohnett has always loved the breakfast diner business model – open from 7:00 a.m. to 2:00 p.m. You get to work early and get out early. But today would be different. In addition to the customer who had just walked in, a woman and her son also sat nearby. It was no big deal to Bohnett, however; as a restaurant owner this is expected and business is business.
After a waitress brought the customer his meal, Bohnett noticed two more men walk into the restaurant. They opted to sit down at the 50s-inspired bar in front. "I remember thinking it was kind of strange," Bohnett says. "The two men at the bar acted like they were going to order, but they never did. At one point they seemed slightly nervous and suddenly one of them left to go make a call."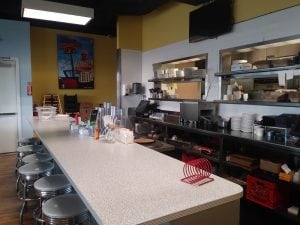 Following the phone call, five additional men met the caller and followed him back into the restaurant. At the time, Bohnett was situated behind a wall on the far side of the establishment. He went to the front to see his potentially profitable table. "I thought, 'Wow, are all these guys really coming in here to eat?'" he recalls. "It was going to be a table of six big guys and we had better be ready to feed them."
As hungry as these six men may have been, they had a job to do and their hunger would have to wait. These men were FBI agents and they were at the restaurant to make a much-awaited arrest.
Before Bohnett could present the men with menus, the lone customer eating chicken and waffles stood up and put his arms behind his back. The FBI agents handcuffed and took him away. There was no resisting and no violence – just compliance as the man was led out of the breakfast establishment.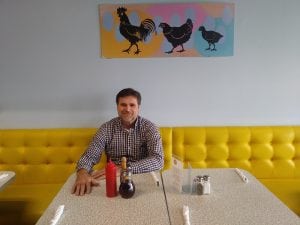 The whole event was over in five minutes. Bohnett says there was no commotion whatsoever and the situation was handled quietly.
"We have police officers come in to eat at our place regularly and we really appreciate law enforcement," Bohnett says. "These guys are all real top-of-the line people – great guys who are extremely professional and did their job very well."
Business was able to continue as normal after the arrest. Bohnett says everyone who worked that day was shaken up but were able to continue on with their duties.
After it all went down, Bohnett still wasn't sure exactly what had happened. Everything transpired so quickly and information was scarce. "The FBI weren't allowed to tell me anything," he says. "So the next day, after I was interviewed by the [Bellingham] Herald, I read their story and saw the man's charges."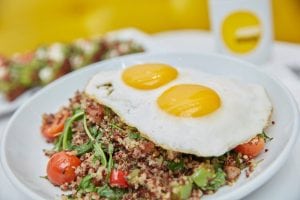 The man who ordered the chicken and waffles had been booked on charges of racketeering, drug-trafficking, conspiracy and money-laundering. All serious charges, carrying hefty sentences. According to the Bellingham Herald, if convicted, the man could face life in prison.
Bohnett says he and his staff were lucky the situation wasn't more serious and there was no violence in the restaurant. "For a restaurant, you never know who comes in," Bohnett says. "We've had all kinds of people come in here and we try to give them a good experience. We don't take shortcuts. We use fresh ingredients, real maple syrup, real butter and provide people with quality food."
A week later, the mother and son who sat at the table next to the arrestee came back to the restaurant, returning for more delicious food that a man would risk his freedom for. The mother smiled at Bohnett and said, "Not too much happening here this week, is there?"
Sponsored