I have been gliding through the lavish halls of Mount Baker Theatre (MBT) since it opened in 1927. Everyone calls me Judy. I love floating through this historic palace. I wouldn't really say that I "haunt" MBT; I'm a friendly spirit. I like puttering through the dressing rooms and balcony, people-watching the interesting visitors and enjoying the more than 400 events hosted here each year.
I must admit, I'm filled with joy when performers visit again. This time I get another extraordinary peek into the lives of David Sedaris and Ira Glass! It feels like it's been so long since they were here in my theatre.
Sedaris is easily one of the wittiest people to take the stage, aside from myself. He's an NPR humorist and a bestselling writer. He tells everyday stories with a unique perspective only he can articulate. He brings to life a world I don't always get to see, with an incredible stroke of comedic genius.
Sedaris is a master of satire. He has an ability to move through cultural euphemisms and political correctness to observe the human condition purely.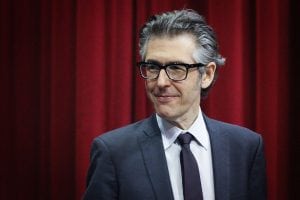 After Sedaris' visit in May, I get to see Ira Glass in June. Sometimes I listen to Glass' radio show, This American Life, in the halls of the theatre when no one is around. I hear this weekly show has won five Peabody Awards and is heard by over 2.2 million people! Are you one of them? I am! Or close enough, anyway.
I can't wait to hear the seven things Glass has learned during his life and career. His presentation is sure to be a colorful mix of his familiar voice and educational perspective. He'll talk through his successes and failures. I just have to know what inspires him to create and what drives his passion – I know they will be answered.
These two gentlemen have crossed paths before. Glass saw Sedaris perform and Glass recorded an original reading from NPR's New York Bureau. From that moment, Sedaris' career took off.
It's incredible to watch people help others. I know the stories Glass and Sedaris are bringing to MBT this year could help young people open their minds to the possibilities. The Iconic Storyteller and the Bestselling Humorist are going to be a hit for everyone – I know it!
Sponsored