It isn't easy to turn your biggest fear into your greatest strength. If you had told Joy Love 10 years ago that she'd successfully conquer her shyness and become a certified hoop love coach, even she wouldn't have believed you. Joy's path wasn't always easy, but she overcame many obstacles to get where she is today. As the hoop dance instructor at The Center for Mindful Use, Joy hopes to connect with others through the power of the hula hoop.
Joy didn't truly connect with the hula hoop until she was in her 20s. She had hula hoops when she was younger, but didn't think they would play as integral of a role in her life as they do now.
In the early 2000s, she learned Boundary Bay Brewery had a hula hoop night. She always loved to dance, but extreme shyness kept her from expressing that love in public. At the hula hoop night, Joy found herself breaking out of her shell. The hula hoop served as a protective barrier between her body and the crowd. This allowed her to dance and overcome the shy feelings she harbored.
Years went by and the connection between Joy and hula hooping dissipated. That isn't to say that the feeling went away – it just took more of a backseat. Following a divorce in 2016, Joy rekindled her relationship with hula hooping. It was a reminder of something she loved, something she found happiness in, something that allowed her to connect with others and shed the shy parts of herself she didn't like.
It started small, but continued to grow. Joy built her own hoops and practiced whenever she could. Eventually she decided she wanted to be involved with the hooping community in a greater capacity. During one restless night, Joy found herself where many of us do these days when we can't sleep – on YouTube. Little did she know, her late-night internet searches would prove to be life-changing. Joy stumbled across Deanne Love, a hoop coach from Australia. Deanne has a massive online following and is considered to be one of the best. Through Deanne's videos, Joy discovered the flow arts movement and the greater community of hoopers.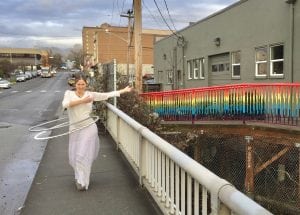 Coincidentally, Deanne Love offered an online hoop love certification program. Joy enrolled in the program to become certified and share her passion with others. Joy found it demanding, due to her other constraints; at the time she was also enrolled in a clairvoyant training program. Luckily, Deanne was understanding when Joy asked for an extension and this allowed her to become both a certified hoop love coach and clairvoyant.
Joy now helps people connect on a real and authentic level via her weekly Northwest Hoop Dance class. Hooping has been a powerful part of her life and she wants to help others discover this power in their lives too. Her classes take place every Thursday at 5:55 p.m. at The Center for Mindful Use.
Sponsored