You don't need a room reservation to get a seat at one of Bellingham's most elegant waterfront restaurants. One of the area's most renowned seafood and steak establishments, Lighthouse Bar & Grill dishes up the finest Northwest cuisine while serving a breathtaking waterfront view as a side at every table.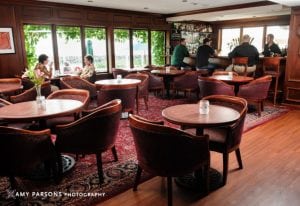 Some people might imagine Lighthouse Bar & Grill as a candlelight celebration dinner venue only, but the waterfront restaurant is open for breakfast, lunch and a happy hour. This means guests can dine on locally sourced meats, seafood, produce and beverages for any meal they choose. "The Lighthouse is a pleasant place to come to lunch," says General Manager Jim Haupt. "You can hear the sounds of the boats going by, the seagulls, the sailboat hardware on the mast and the water."
In addition to showcasing local ingredients, the restaurant also features themed meals and special wines. January was "Wine down from the Holidays" while February celebrated "The Month of Love." For March and April, enjoy an extravagant Celebración reveling in the tantalizing tastes of Spain. Chef Michael Grogan will offer a variety of deliciously authentic Spanish-themed dinner specials, along with exclusively curated Spanish wines.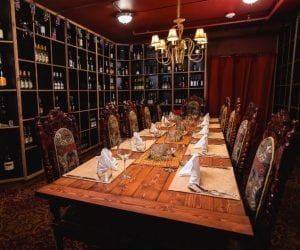 Hotel Bellwether, home of the fabulous Lighthouse kitchen, is offering a special package that offers hotel guests Crocus flowers and a Serrano Tapas plate in their room upon arrival, along with a complimentary bottle of wine with dinner reservations.
Hotel Bellwether and the Lighthouse live together in harmony on the waterfront, offering a spectacular spot for visitors to explore and locals to enjoy. This home away from home is filled with warmth, rich wood and natural light that brings the outside in. But what most people don't know is there's more to this setting than meets the eye.
Hidden under the Lighthouse Bar & Grill is a comfortable European-styling dining room with 14 Louis XIV-style chairs, a mahogany-stained table and a wine collection that decorates the wall from floor to ceiling. This secret room houses exotic wines and local favorites for every sommelier. This is truly a one-of-a-kind wine cellar.
Hotel Bellwether also offers larger spaces for events and meetings, including the Bellwether Ballroom, which seats up to 250 guests. Their Garden Room accommodates up to 20 people. "The Bellwether is a great place to hold a quality meeting," says Haupt. "The staff is very friendly, warm, welcoming and service is very good – professional but relaxed – and the food is outstanding. We can do anything a group would like us to do."
Gatherings held in the Hotel Bellwether Ballroom or Garden Room have the option of enjoying catered food from the banquet department. This promises not to disappoint as staff goes above and beyond to ensure a positive experience.
The hotel rooms are no exception. Each is warm and cozy, filled with the scent of fresh flowers. Every guestroom offers impressive views of the water. The large windows exquisitely frame sailboats cruising in the distance and seagulls frolicking in the surf. Even if you're local, a weekend getaway at Hotel Bellwether will ease your stress and liberate your imagination.
There's simply more to experience at Hotel Bellwether, with new additions being added all the time. Currently, the hotel is undergoing renovations to improve the style and function of the bathrooms in each room.
Even if you can't stay the night, there's always something happening at Hotel Bellwether. From weddings to spa days, and all the entertainment possibilities in between, you're sure to enjoy your visit. This unique spot offers something fun for locals and out-of-towners alike. "There's never a dull moment," says Haupt. "We have a lot going on down here. We have business people, families, people that just want to get away and enjoy the waterfront."
Hotel Bellwether and the Lighthouse Bar & Grill are local treasures. "We want people who live here to come and enjoy this waterfront gem," says Haupt. "The staff is friendly and the food is good." Now it's your turn to stop by and enjoy the view.
Lighthouse Bar & Grill
1 Bellwether Way
Bellingham
360-392-3100
Sponsored