Over two decades ago, Aaron and Kim Otto began the farm that we now know as Moon Valley Organics. What started as Kim trading ice cream for vegetables with Fortunate Farms wound up opening the door to an internship, with Aaron, Kim and their daughters moving to the farm for a summer. Aaron had always dreamed of being a farmer and the experience they had there was so positive that when the owners offered to sell to the Ottos, they accepted.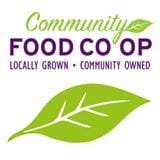 "The first year was hard. I think we only sold 10 grand," Aaron says with a laugh. "We had two kids at the time, so that wasn't enough to make ends meet. We both got jobs for the winter and we studied really hard, trying to figure out how to make this work."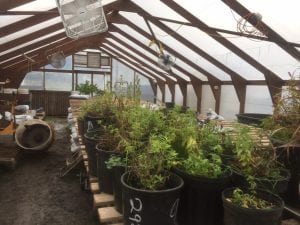 Those early days of self-driven study echo in the farm's educational endeavors today. Every summer they accept 30-35 interns and students to live with them through WWOOF. They take pride in being able to teach each student what they want to learn, anything from vegetable farming to beekeeping, woodworking, canning, mechanics and so on. "We look at it as a labor resource, but also as a way to give back and teach," Aaron said.
After that first challenging year, things started looking up. "We came back the next year and really turned it around," Aaron says. "I think we sold over 100 grand."
"That was 25 years ago," says Kim. "We came in to organic farming before it was cool. It was a different time. That was our vegetable farming history. A partnership fell apart, so we went back to the drawing board. We wanted to be small farmers and that's when we started our herb farm, Moon Valley Organics."
I take a sip of their delicious homegrown tea and smile. Today, the dream of those two young parents has grown into reality. You may recognize the Moon Valley Organics label from their lip balms, bar soaps, liquid soaps, rejuvenation rubs, lotions and herbal salves.
"We found that these products were ones we could sell through the winter," Aaron says. "We dreamed of being able to send our kids to college – all the stuff people want to do, but on a farmer's wage … Kim's love for herbs, my love for farming and both of our love of homesteading is why it works. That's where Moon Valley comes from."
The company has expanded to sell online, wholesale and at local stores like the Community Food Co-op and at Pike Place Market.
"The theory behind our products is to make organic skin care products at almost the same price as non-organic ones, so that customers can cross over," says Aaron. "We've always wanted to take store shelf space and make it organic. Being an organic farmer, you're very aware of the damage to the earth conventional farming can cause and the confusion of non-farmers between natural, organic and conventional farming. We just want to heal the earth and help with healthy lifestyles."
Kim and Aaron were pioneers in the organic farm movement. Now that organics have gained popularity in our area, they're moving on to focus on helping the bees.
"#Helpsavethebees,"  Kim tells me with a smile. "We started that a few years ago with our lip balms, where we donate 10 percent of our net profits back to organizations that facilitate saving bees and pollinators."
They donated $8,000 last year to places like the Pesticide Action Network, Monarch Joint Venture, Xerxes and small grassroots organizations, gleaning information from Xerxes. They are also donating five acres of their land to pollinators by planting nectar plants they need to survive.
"These are long-term gardens," Aaron says, "for long after we're off the farm. We're making an ecosystem, putting in annual flowers and 25-35 different species of native plants."
An endearing part of the culture Kim and Aaron have built at Moon Valley Organics is the family atmosphere. Their kids grew up on the farm, Aaron's parents were heavily involved and they've formed lasting relationships with many employees. They still get Christmas cards from past interns.
"My dad was an MDND and my mom is an herbalist, so they helped us with recipes," Aaron said. "Now my father has passed, but Kim has taken on a lot of that role and educated herself, becoming a knowledgeable herbalist, doing formulations of the products. That's kind of how we split our energies: she's the formulator and HR, and I'm the farm manager, brander, business guy."
Kim smiles as memories come to the surface. "We were raising our kids and would trudge them along, out to the fields and sit them down. They'd play and eat dirt."
"Yeah and Ferrin, our newborn," Aaron picks up, "she would sit on the ground while Kim picked zucchinis and you could tell where they had been because Ferrin would kick her feet around and leave these little 'Ferrin-marks.'"
"Kick her feet and eat dirt," Kim says with a laugh. "So fun."
Their daughters are grown now. The oldest, Lyric, is 25 and works for their farm, doing sales. Their youngest, Ferrin Storm, is 22 and studying at the University of Washington.
Be sure to look for Moon Valley Organics. Their locally made, sustainable products really are exceptional. Plus, you'll feel great knowing you're supporting a family farm that supports our community and environment in turn.
Sponsored