It may seem that cannabis has been legal in Washington state for a long time, but it's actually been a mere six years. With the relatively recent legalization of cannabis, there's still a need for deeper conversations on its usage and place in our society. Cue The Center for Mindful Use (CMU). Created as a free public space where people meet to discuss and learn about legal cannabis, the center has since evolved into much more. Located behind the Satori Cannabis Boutique, various canna-friendly events and gatherings take place here throughout the month.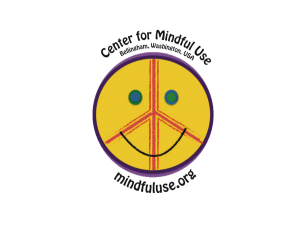 From meditation to yoga and hoop dancing to drum circles, there's a little something for everyone. Or perhaps it's better to say there's a whole lot of everything for everyone. All CMU activities are rejuvenative, relaxing and informative. Participation makes one well-rounded in body, mind and spirit.
Cannabis is not permitted in the Center and teachers do not advocate its use (mindful use often means no use), but some have found the use of cannabis beneficial and participants are encouraged to show up as they are.
Most recurring classes take place throughout the week at 5:55 p.m. These weekly gatherings take place in Bellingham's Forum de Freedom located inside CMU. They are free or donation-based, encouraging everyone to come and give these mindful activities a try.
There is meditation every Monday. Wednesdays are for yoga. You can hoop dance every Thursday with hoop coach Joy Love or participate in a two-hour drum circle on Fridays. The newest gathering is the Boomer Yoga Class, also known as "Movement as Medicine." This class is a yoga gathering for those 55 and older and takes place every Friday at 11:11 a.m.  One of the most popular weekly offerings at the center — SLOW Stretch — takes place every Monday at 7:30 — just after meditation. It is exactly what it says: slow, mindful, guided stretching that offers what we all need: a regular opportunity to rest body, mind and soul.
Although weekdays at CMU are jam-packed, there's still time for a variety of classes on cannabis education and other mindfulness activities throughout the rest of the month.
During the month of March, there are a wide variety of events scheduled, in addition to their weekly gatherings. For example, on March 8 there will be an Energy Awareness Circle. This monthly gathering is for community members to come together and discuss what it means to live in an energetic body. During the Energy Awareness gathering, you'll learn different breathing and visualization techniques to help you set goals and calm your mind. Other current offerings include: Concious Dance, an Everyday Mindfulness class and FloWednesdays with Steve Remo, a monthly gathering for Bellingham's Poi community.
Not only is CMU a place to converse about cannabis, it's a place to become immersed in community and participate in activities that promote wellness, health and prosperity. To stay up-to-date on CMU events, check out their Meetup page at www.mindfuluse.org or like their Facebook page.
The Center for Mindful Use
100 Maple Street, Suite B
Bellingham
  Sponsored