As I walked into the kennel and training room at Brigadoon Service Dogs, the puppies were yipping and jumping for joy. It was all tails wagging and mouths smiling. A large black lab laid serenely nearby, watching with interest as I entered. He was an older graduate, a paragon of composure and a model for what the younger trainees may one day become.
A professional dog trainer for over forty years, founder Denise Costanten saw a gap in the supply of quality service dogs available nationwide. "I'm just a dog trainer but I saw a need and wanted to take my skills and use them to help people in the disabled community," she says.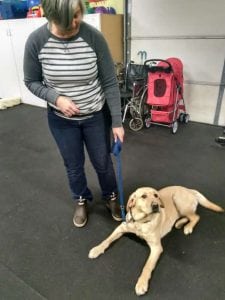 Denise started her non-profit in 2004 and is accredited by Assistance Dogs International. She has received multiple awards and honors for her work. She stresses that Brigadoon's dogs are handled and trained with care and consistency, so they will be of real benefit to their future owner. "There are those fly-by-night service dog outfits that will give a shelter puppy some basic training and a vest, then sell the dog and disappear," Denise says. "We're not that. I care about connecting people with dogs that can really help them and ensure the dog is equally cared for. We train our clients for weeks before and after they've made the adoption."
In her first year of operation, Denise graduated three dogs. Since then the number has steadily risen and today Brigadoon averages ten service dog graduates a year with an unending waitlist for their adoptive homes. In order to get those ten, there are 20-30 dogs in training at various stages of development. Not all will become certified. "Perfect dogs aren't common," says Denise. "If I see a character trait that would prevent a dog from doing their service and it's not improving with training, I would rather release them from the program and adopt them out so they can join their forever home sooner rather than later."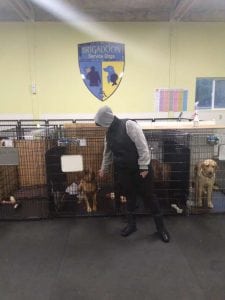 In addition to using local volunteers to help raise the puppies in their homes, Brigadoon partners with three regional correctional facilities, including Stafford Creek where the dogs are paired with incarcerated veterans. "For each prison, I'll spend a week training inmates on how to train our puppies," explains Denise. "I'll bring a dog that is close to graduating to demonstrate all the handling skills, like how to hold a leash and walk through doors." Denise also leaves the new trainers with some extra references, including five DVDs and the classic book, Don't Shoot The Dog! by Karen Pryor.
Denise has heard from wardens that her program has had a profound effect on the inmates caring for the dogs. "There was an inmate who was always celled alone and didn't really communicate with others," she says. "When he began working with one of our dogs, he really opened up and his behavior changed because of it – he let people in again. It's really a wonderful thing, how the responsibility of caring for a dog can be a part of someone's rehabilitation."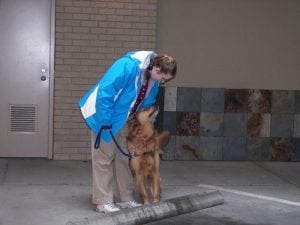 Brigadoon trainers and volunteers use only positive reinforcement techniques to modify behavior and are especially reliant on clickers. "Our training is all about keeping the commands and rewards consistent across all the different handlers that a puppy works with," explains Denise. "It's what's fair for the dog and it teaches them to do the same behavior for every person that asks it of them."
Service dogs from Brigadoon find their forever homes all along the west coast, but many end up in south Puget Sound around the army base. For veterans with diagnosed PTSD, adopting a Brigadoon service dog is free of charge. For someone who has a traumatic brain injury or PTSD, a service dog can help with their balance, give them confidence in public and can even be trained to help remind them to take their medications.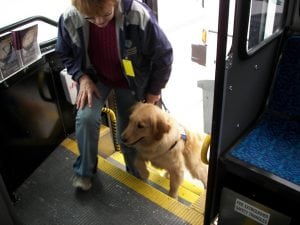 Brigadoon trains each of their dogs with the same foundational skill set. When they have matched them with a client, they fine tune their training to suit their particular needs. For a woman with impaired depth perception, her dog will stop before reaching a step or curb. For a gentleman with limited mobility, his dog can help open doors and turn on lights. "One family we worked with had a child on the spectrum who had the tendency to run, so we trained a dog to follow her scent so her family wouldn't lose her in crowds," Denise recalls. "In the end, when the family brought the dog home, the little girl stopped running away because she didn't want to leave her new friend."
For every  Brigadoon Service Dog graduate, it takes $30,000 worth of training time, lodging and fuel over their two years of schooling. Brigadoon doesn't receive grants for their work and relies on community financial support and volunteers to keep them operating. For volunteer and board member, Lisa Sohni, supporting Brigadoon has been incredibly rewarding. "When you're working with a dog, you get to be in the moment, just you and them. The world kind of melts away while you help them become someone's rock in the future."