Have you been a fan of fashion and beauty since you were little? Turning that passion into a profession is what led Bellingham local Sarah Rorvig to open Vivaluxx School of Makeup Art on Chestnut Street in downtown Bellingham in January 2017. She's using her school to train new artists while supporting local charities.
Rorvig has been interested in makeup since the age of five. Her first patient model was her supportive father, Mike. Rorvig continued to do makeup for high school theater productions and for friends for dances and special occasions. "I was always intrigued by makeup art and when I was a senior in high school I heard about the John Casablancas Institute of Makeup Artistry in Vancouver, B.C.," remembers Rorvig. "I was shocked to hear that a career in makeup art was a real option. Touring the school made it click that this was the right profession for me."
Rorvig has been a professional makeup artist since graduating with honors from the prestigious program in 2006. Over the following decade, Rorvig gained experience in all aspects of makeup: bridal, fashion, body painting, film and media. Her education, training and experience working at MAC Cosmetics in Hawaii (now available at Bellis Fair Mall) and as a freelance artist have been unique and invaluable. Rorvig also worked backstage—and onstage—with international hair stylist Kevin Murphy, known for his work in Vogue, Harper's Bazaar, Sports Illustrated swimsuit edition, Marie Claire, Vanity Fair, Instyle, Rush and GQ, among others.
After a decade of travel and professional experience, Rorvig was ready to share her art through teaching. "This is what I've always known I wanted to do. I love teaching, sort of passing the torch to other artists," notes Rorvig.
It's also important to Rorvig to use her talents to give back to her community. In addition to mentoring budding makeup artists in her classes, Rorvig has helped raised thousands of dollars for various charities by donating her time and artistry. While living in Hawaii, Rorvig donated body painting to raise funds for the AIDS Foundation. Since moving back to the area, Rorvig has donated her time and the effort of her students to charity events like Lydia Place's Handbags for Housing. "I love trying to give back as much as I can as an artist. It feels good that our team helped them raise more than $70,000 at the most recent event," adds Rorvig.
Besides Rorvig's love for the arts she also has a second passion for driving. She has been racing autocross since 2010. Her highest accomplishment was placing first and becoming a National Event Champion in her division at a SCCA National Tour in California.
Master Beauty Makeup Certificate Program
Each spring and fall, Rorvig teaches a five month intensive Master Beauty Makeup Class. Enrollment is kept low with lots of instructor attention so students can focus on flawless application and the creative freedom to perfect their technique. The 35 hours per week spent in hands-on practice hones each student's artistic abilities while helping them gain the confidence and tools to build their portfolio and make a name for themselves as professional makeup artists.
The Vivaluxx program is well rounded. In addition to body painting, bridal and media artistry, Rorvig's classes cover the history of makeup artistry. Students learn the styles of decades past and how they changed from era to era, allowing them to work on period pieces for film and photography as well.
Rorvig's students also benefit from talented—and famous—guest instructors. Seattle artist, Dutch Bihary, known as one of the best body painters in the world, has instructed at Vivaluxx, while also sharing his experience of competing on The Game Show Network reality series, Skin Wars.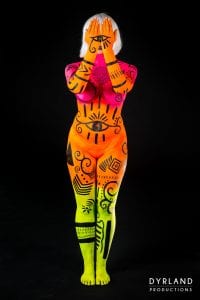 "A number of my students are young people and work-from-home moms who are seeking a creative, professional path that doesn't include college," notes Rorvig. "After their training, there are a lot of different avenues. Some will go into sales, but if you like the science side, you can go into cosmetic formulation, stability testing and color mixing."
The skills Rorvig is teaching extend beyond conventional makeup design. "We also focus on skills needed in every field. They are also learning how to be a business owner, from taxes and getting paid to social media and professionalism," explains Rorvig. "I know my students are going to show up on time, looking professional, with a clean makeup kit. They represent the school very well after graduation."
Workshops, Group Lessons And One-On-One
"I try to do at least one short workshop a month. I also have a lot of fun working with individuals and groups of friends or colleagues on whatever interests them most," explains Rorvig. "I'll even create a custom workshop that fits their budget." Classes can be topic-specific, like learning the infamous "smoky eye" or holiday-specific so that you can add some glam to your routine. These are ideal for someone who wants to learn more and add style to their look but doesn't have a lot of time.
Bridal, Film, Media and Theater Projects
Learning isn't restricted to the Vivaluxx classroom. Rorvig, her students and alumni also gain practical experience while bringing beauty and style to area weddings and film, media and theater productions. "I am constantly seeking opportunities to help my students build their experience and portfolio with real world projects," notes Rorvig. "Whether they need a single experienced artist or a team to efficiently handle a huge wedding party or fleet of extras, I have built the relationships to get them covered, regardless of budget."
Rorvig's creative wedding work has been published in Seattle Bride and on numerous wedding blogs.
Whether it's in the classroom, at a fundraiser or on the set of a photo shoot, Rorvig loves sharing her passion for beauty through makeup with her budding students and her thankful community. Vivaluxx is currently enrolling students for classes that begin in February and August while also teaching those with a creative flair in workshops all year long.
Vivaluxx School of Makeup Art
115 W. Chestnut Street
Bellingham, WA 98225
866-757-LUXX
hello@vivaluxx.com
www.vivaluxx.com