Many may be surprised to learn that a high quality dining experience is tucked away on the fringe of Bellingham's city limits. The first of its kind, northwater restaurant is hosted by Holiday Inn and Suites by the Bellingham Airport. With cool tones and sleek glass, the atmosphere of northwater is modern and chic, a style counter-balanced by their new chef's home-inspired menu. With dishes like bacon-wrapped meatloaf and Reubens with house-made corned beef, Chef Wynton Kelly aims to create a menu that invokes the warmth and connective feelings of home and a meal shared over laughs with family and friends. "I don't think I have a particular style, I just love to make food that reminds people of their family home," he says. "Think comfort food with a high twist."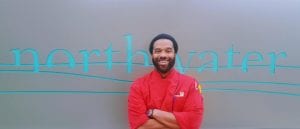 Chef Kelly joined the northwater team in mid-November and has slipped right into his new role, redesigning the menu and putting together holiday specials. "It feels great to be a part of the northwater family," remarks Kelly. "I've been so welcomed, I feel like I've been working here for a year, not just a month."
For Wynton, the role of chef is taken with humility. He emphasizes the importance of great teamwork in the kitchen as a prerequisite for good food. "I take a collaborative approach and try to get everyone involved. I want the whole team elevated because, as a chef, you're only as good as the team supporting you and I want to be surrounded with people that can bring in their own knowledge and inspirations."
Juli Wavada, northwater's food and beverage director, agrees. "I was lucky to have worked with Wynton before. His spark, humble and collaborative approach, and the way he radiates positivity were all reasons I knew he would be the perfect fit for northwater. With Wynton, it's not about him – it's about the people he's serving and the family he is working with. It's an experience for everyone who is involved, and a platform for passion."
In his youth in Dallas, Texas, Wynton was explorative with kitchen chemistry. "When I was a kid, my friends called me 'Chef Kel.' I would put together snacks like ketchup and donuts, or Pringles and Miracle Whip. I've come a lot farther now, of course," he says with a laugh.
"I grew up with a tradition of Sunday sit-down dinners. It established how I've come to feel about food being what brings people together."
As a young adult, Kelly worked in a company kitchen making lunches for their employees. "There was a woman who worked there that encouraged me," he recalls. "She told me she thought cooking was something I could really be good at. I don't think I'd be here if it wasn't for her saying that."
One day, Kelly walked into El Centro College in Dallas, intending to become an interior designer. "It kind of fell into my lap," he says. "I didn't really have a sense of direction out of high school and I had to find out what I wanted to do. I walked into El Centro intending to sign up for their interior design program, but last minute ended up in a chef apprenticeship." Kelly studied under French Master Chef Bernard Herman at Bent Tree Country Club in Dallas.
Before joining northwater, Wynton's creative presence has graced such local eateries as the Chuckanut Brewery, Silver Reef Casino, StrEAT Food and the Shuksan Golf Club.
After spending the last decade in Whatcom County, I wondered how our local culture has affected his home-style cooking. "What I've noticed about Bellingham's food scene is that lots of people have moved in to bring their own flavor," he explains. "I come from what I call the Midwest South, where there's an emphasis on butter and cream. Taking that and moving towards more of a focus on vegetarian and health conscious dishes, and gluten free has been a challenge I've enjoyed. Cooking vegetarian was something I hadn't had much experience with before, but I was particularly proud of a dish I developed – a roasted vegetable taurine with eggplant, wrapped in Napa cabbage and zucchini."
Part of Chef Kelly's humility is in his desire to put his guests' dining experience at the forefront of his creations. "I get gratification from my work when I walk through the restaurant and people are nodding their heads and they're happy," he says. "I watch what's on the plates when they come back and I listen to those signs. If people aren't eating a particular side, I'll pull it and try something new."
northwater currently hosts a bi-monthly supper club, which will hold its next event in February. It consists of a series of six, limited seating dinners in partnership with a winery, brewery or distillery. Wynton then designs a five course pairing to complement the night's craft drink selections. If a multi course pairing, or even just a gourmet three cheese bacon mac, sounds like just the thing, venture to northwater to experience Chef Wynton Kelly's latest creations.
Sponsored