On a recent, very sunny Tuesday morning I visited a Western Solar job site with Trish Merriman, who heads up the company's outreach and project support. Now that I had decided to solarize my home, I had some questions about what to expect from the project, start to finish. Trish suggested I join her in the field with the crew and see an install for myself.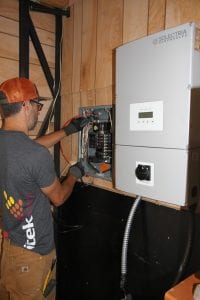 As we made our way from the office in Bellingham to a residence in Ferndale, Trish and I chatted about all the usual things. The weather, the housing market, our families… It struck me that while I babbled on about my husband and kids, it seemed that Trish had two different families to talk about—her household family and her workplace family. Rather than a collection of coworkers slogging through the workweek, the employees that make up Western Solar like each other. They like their jobs. They like their industry and they are proud to be a part of it.
We spotted the Western Solar trucks and pulled off of the quiet, rural road into a driveway. As soon as we hopped out of the truck a friendly voice shouted, "Hey Trish!" from above. The installation crew was diligently working on the roof of the residence's shop. I looked up to see two smiling men tethered to the roof, waving at us. There were another two men working down on the ground, near the corner of the building. My initial impression was how small their footprint was. Two trucks, four guys, hardly any noise besides some low talking, laughter and the hum of a power tool.
Trish first introduced me to Brad Stockton, the crew's foreman and lead electrician. He then helped us find the homeowner, Marv Eggert. About seven years ago Marv started to think about solarizing his home, but it wasn't until a month ago that he decided to take advantage of current state incentive programs and go for it. And he wouldn't have to wait much longer for the finished product. From first phone call to solar-producing house, the process would be a mere three weeks. Once the install is complete, the Department of Labor & Industries performs an inspection and then Puget Sound Energy completes the connection to the grid and commences net metering. All in all, about one month total and Marv will be using the sun to power his house.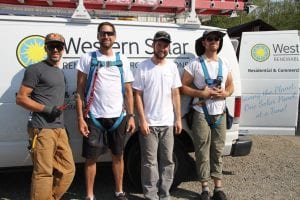 Marv had nothing but high praise for Western Solar. He appreciated their efficiency and experience, their communication and speed. He told me that they were, "Wonderful to work with … everything done by professionals." And so I decided to go meet the rest of the professionals.
The crew this day was comprised of two electricians, Brad (the lead) and Craig Folsom, and two installers, Zeke Logan and Getch Poole (another installer, Tim Black, was out that day). Talking with them and just being on site made me miss my old job working on a camera crew. Sure, very different industries, but a crew's a crew. The work is physical, you're on location and everyone is working together, doing their own part for the whole finished product. For me, though, some of the jobs I did weren't, let's say… helping the world. It's different for these guys. They are making a positive difference.
"I sleep well at night," Zeke articulated, summing up why pretty much everyone at Western Solar chooses to work in renewables. They feel good about their work.
"We're helping people create their own electricity. That's a pretty neat deal," Brad said of his choice of career. He is on the job to earn a living, of course, but also to learn more about off-grid systems, hoping to one day travel to far-flung reaches and use his knowledge of renewable energy to help remote communities in need. Each of the men has a similar story. "Every solar panel I install, a little less fossil fuel burns," Zeke explained as he and Getch expertly traversed the metal slope, attaching the roof mounts.
After he hoisted the inverter into place on the wall of the shop, Craig told me a little about his background. He earned a Bachelor of Science in renewable energy, anticipating a growing field. He then took online courses from Solar Energy International while gaining hands-on-experience as a solar installer. With the help of Western Solar's funding of continuing education offered to all employees, he became a residential electrician. Western Solar's continuing education program also supported Brad and Craig as they studied for and earned their certification with the North American Board of Certified Energy Practitioners (NABCEP), the most recognized and esteemed certification the solar industry offers.
In addition to professional experience in solar energy, this crew literally brings their work home. Brad installed panels on the roof of his home earlier this summer and Getch has begun his own home installation as well. Craig helped his parents go solar and has plans to do so himself once he buys his own home. Back at the office, two other employees have installed solar on their homes while a third is in the midst of an install. In fact, a quick tally shows that every Western Solar employee who is a homeowner has installed or is in the process of installing solar. Solar installation is not just something they do for others—it's a personal choice as well.
After spending time on the Western Solar job site, I'm 100% ready to make the leap—and soon. Chatting with Marv has solidified my resolve to make my own home energy efficient. What's more, talking with Trish, Craig, Brad, Zeke and Getch has gotten me excited about the actual process. Their expertise is unparalleled, their enthusiasm is contagious, their commitment to environmental protection is encouraging – and I couldn't find a better group to help me take this next step.
Western Solar
4041 Home Rd Ste A
Bellingham
360-746-0859
Sponsored