Did you know The UPS Store in Sehome Village is a locally owned and operated small business? Most people don't. They see the name UPS and assume that every individual store is just an immediate extension of the big corporation. Believe it or not, like most local chain businesses, the Sehome Village UPS Store is a franchisee. Manager Bobbi Gainer and the rest of the local Bellingham UPS staff are ready to help you with all your shipping, packaging, printing and mailing needs.
If you have recently asked yourself the question, "Why am I renting a traditional mailbox for my small business or my personal needs?" Then you have come to the right place. Bobbi says the Sehome Village UPS Store offers all kinds of mailing services to customers interested in setting up both business and personal mailbox accounts. UPS's mailbox services are one of the main reasons customers choose to do business at UPS, Bobbi says.
And when you sign up for either a personal or business account with The UPS Store you get access to their key savings card. "The key savings card allows our mailbox holders to access additional beneficial services," Bobbi says. "You get access to discounts on mailing, shipping, packaging, printing and notary services."
The nice part about The UPS Store's mailbox services program is that you can utilize it for either a business or personal account. Their slogan is, "Get a mailbox with a real street address." Bobbi reiterates this point to me as we chat about the mailbox services program. She explains how their program has helped a variety of different types of people.
If you decide to use UPS mailing services for a personal mailbox, you get way more than just a simple mailbox and key. Bobbi and her trusted team supply you with a safe and secure spot for keeping your mail and packages.
"We want to make your life easier and make sure you don't have to worry about the unnecessary stress of your mailing needs," Bobbi says.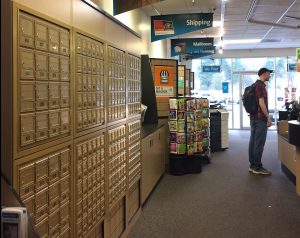 The personal mailbox service system even has some extra perks. This includes an actual street address for personal use, mail holding and forwarding, notification upon mail arrival via text or email and a guarantee they will keep your package and mail safe until you retrieve it.
But perhaps what makes the UPS's mailbox system most effective is that for both personal and business accounts they accept packages from all types of carriers. This comes in handy, as it ensures you don't miss out on any deliveries that you may be expecting.
With the UPS's mailbox account system, your small business can also reap all of the benefits that personal account users get, Bobbi says. So it doesn't matter if your mailing needs are personal, or strictly business, Sehome Village's UPS location has got you covered.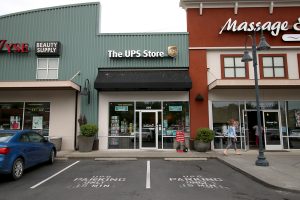 And there are even a few added features created specifically for business accounts. When you sign up for a business mailbox at The UPS Store you get a street address that gives your business a professional business image and feel, 24/7 access to your mailbox and top-notch security for your mail and packages.
As Bobbi knows, you're most likely swamped running the many aspects of your business. Let her team take mailing off your vast list of responsibilities and sign-up for either a business or personal mailbox account at the Sehome Village UPS Store today.
Bobbi says her expert staff can help you save time and find the perfect packing and shipping solutions that best fit your needs. "We try to be your home away from home-office," Bobbi says.
Sponsored