It's amazing how little we consider transportation fuels that we use every day. Yes, I fuel my car at the pump and I'm grateful for the occasional flight that takes me out of Bellingham, particularly in the chilly gray months of winter, and even more grateful for the flight that brings me home again. But how much do we really know about transportation fuels?  Despite using these products nearly every day, they are products I rarely think about. I've been content to appreciate the fact that the fuel is easily accessible when I need it, and leave it at that.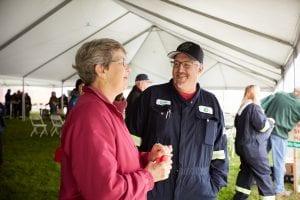 I was intrigued when I saw that BP Cherry Point Refinery was hosting a Community Open House, but I didn't know what to expect. This visit gave me a chance to see firsthand how crude oil is made into gasoline, diesel and jet fuel, and to spend time with the refiners who make the products that power our way of life.
I may never feel the same way at the pump again.
As I drove toward the BP Cherry Point Refinery, I was struck by the pristine natural landscape of the wetlands adjacent to the refinery. BP owns a few thousand acres surrounding the refinery and has worked to restore and mitigate wetlands resulting in a flourishing natural habitat for wildlife.  BP works with a local farmer to keep much of the acreage to the west of the refinery in hay production while allowing public access to the network of trails offering views of the Strait of Georgia and the San Juan Islands. BP also plants acreage in cooperation with Washington State Fish and Wildlife's "Barley for Birds" program, in which grain is left to go to seed, providing a food source for migrating birds.
The day began with a warm and friendly welcome by several BP staff registering guests for the open house and bus tour opportunities taking place throughout the day. I grabbed a cup of coffee and a pastry and made my way over to the self-directed poster session, which displayed inner workings of a refinery from beginning to end. With BP staff present to explain this complex process of refining crude to usable products in layman's terms, I began to grasp the contribution this facility and its employees make in our local economy. The pride of each member of the BP team I spoke with was obvious. They are proud of the work they do and eager to share their extensive knowledge of the process units they work in.
As I listened intently to the description of how crude oil becomes products, I learned that one of the refinery's goals is to optimize the production of every barrel to get everything possible out of it.  I learned about BP Cherry Point's commitment to environmental stewardship and safe operations and about the years of planning it takes to complete a turnaround. I learned about the personal commitment the employees have to the community in which they live and work – they participate in the United Way, serve on local boards and commissions, volunteer their time as coaches, mentors and instructors, and sponsorship of BP Heron Center for Environmental Education, which was built for the community to offer year-round environmental education at Birch Bay State Park.
The other guests in attendance included high school and college students and residents from all across Whatcom County who were interested in learning more about what it takes to manufacture fuels at BP Cherry Point Refinery.
As I boarded the bus for a tour around the refinery, I felt as though I was personally entering an episode of "How Stuff Works" on the Discovery Channel. As each participant boarded they were given a pair of safety glasses and took a seat before fastening their seat belts.
We learned from Jeff Chalfant and Courtney Lancaster, our tour guides who work as unit superintendents at the refinery, that the separation process of the crude oil involves six basic levels from lightest to heaviest. Every component of the barrels of crude oil, which arrives primarily by ship but also by pipeline and rail, is converted. Nothing gets wasted. In fact, even the "sludge" that settles into the bottom of the tanks gets reprocessed, squeezing every bit of usable material out of the remaining crude oil.
As we drove through the plant, I was amazed by the infrastructure of the refinery. Miles of pipes connect distillation units in the process of heating, cooling and further "cracking" the hydrocarbon molecules into usable fuels.
Jeff and Courtney explained how safety and teamwork are at the forefront of BP's expectations of their employees. Operators are required to undergo a three-year process of vigorous training and are expected to have good communication with their teams and a solid understanding of the process. With a set of simulators, teams are able to practice different scenarios before they ever get to the operations board.
"We're very proud of our staff," said Courtney. "They are smart folks. They act safely, think safely and work as a team."
As a highly reliable plant, BP Cherry Point Refinery has a fully qualified response team including highly trained firefighters in the North Fire Hall and South Fire Hall. In fact, local fire departments often come and train with these BP firefighters because of the facilities and knowledge available.
The tour concluded and we arrived back at the recreation area for lunch and conversation before heading back to our homes and lives. I departed with a deeper appreciation for the business behind the pump – for BP's employees and their commitment to safety, the environment, to product quality and to our community, in which this team is clearly deeply embedded.
Sponsored