Submitted by: Ferndale Chamber of Commerce
The Ferndale Chamber of Commerce is excited to announce the annual Downtown Trick or Treat and Haunt the Park events coming up October 28! Both events are free to the community and accommodate all ages.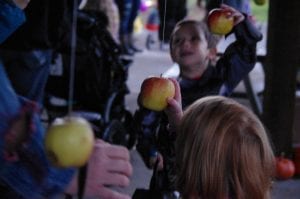 Downtown Trick or Treat will take place from 3:00 – 5:00 p.m. on Main Street, which will be closed to traffic. Children will be able to trick or treat through over 40 businesses and booths in downtown Ferndale. Directly afterward from 5:00 – 7:00 p.m., families can ride the complimentary horse drawn carriage that takes them straight to Haunt the Park.
Haunt the Park is located in Pioneer Park and will have a variety of family activities such as a costume contest, themed games and more trick or treating! In addition, we have also added an all new Haunted Barn. The Barn will be doing a light scare during the event, and then reopen as a full scare from 7:00-10:00 p.m. The Haunted Barn is run by an outside volunteer and has a fee of $5 or $15 per family up to five. All proceeds will benefit the Ferndale Food Bank.
We would like to thank our sponsors for continuing to make this event possible: WhatcomTalk, Ferndale Grocery Outlet, McDonalds, Starvin' Sam's Mini Mart and Best Western Heritage Inn.
To find out more please visit us on Facebook, call us at 360-384-3042 or check out our website at www.ferndale-chamber.com.