I first met Nicole Cooley at a Women's Retreat that focused on saying, "Yes!" Nicole taught a workshop called, "Ignite your Money Moxie!" I, of course said yes to getting my finances straight. There was a group of about ten women huddled around Nicole as she talked about her experiences starting her own business as a money coach. Nicole graduated with a degree in finance and landed her dream job with a great six figure salary. However, she still felt something was missing. "I hadn't put all the pieces of the puzzle together and as my stress level grew around my job, the more I made and the more I would spend as a coping mechanism. I even started to accumulate some debt. I began to see the relationship between your money mindset and your behavioral finance. That's when I knew something had to change."
She and her husband made a two-year plan to get out of debt so she could start her own business. This would give her some time to grow the business before striking out fully on her own and before starting a family. Nicole, like so many other women entrepreneurs, left the corporate world to have more flexibility in her work/life balance.
She wanted to create a business that allowed flexibility in working hours and followed her passion of helping people and the community. That's how "Money With Moxie" began. The idea of paying it forward helps the community directly, "It not only helps the people who need financial help, but the communities and businesses they support." For instance, Nicole says if eating organic and supporting local farmer's markets betters your community and lifestyle, then continue to do that. The way you spend reflects what you value, so cut down on things that don't match your values and spend that money on things that do.
When asked who tends to gravitate toward her for coaching, she explained that many times it's ambitious people that know what they want, but their money mindset and behaviors can sabotage those goals. There's a need to be perfect and many carry a fear of not being successful in everything they do. So when it comes to being perfect at managing their money, they just don't even start. Our money habits can reflect our eating or other health habits as well. We might be really good at eating healthy, but maybe not as good at budgeting.
That's what makes Nicole different from other money coaches – it's not just about spending less, saving for retirement and getting out of debt, but also prioritizing the most important things to you to make your financial plan work. "When people allow themselves to live their lives that way, it creates a ripple effect that could be huge throughout the local communities. If they want to support local, conscious companies and it costs more money, then do that. You have to give yourself permission to do those things and not feel guilty about it. Especially for women, we have so much guilt around everything. We can't feel guilty about buying that dress from the local boutique if that aligns with your values. Own it. Don't feel bad about it. Sit down and do your numbers so that they work at the end of the day and move on."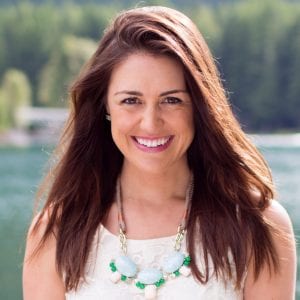 Nicole, like so many women entrepreneurs, struggles with knowing when to ask for help and actually asking for it. We have to let ourselves off the hook when things don't go perfectly and allow space for self-care. Building a support system that extends to the babysitter, dog sitter and even a virtual assistant allows one to focus on the business to help it thrive, rather than spending time on details someone else could cover. That same principle can apply to why you might want to get a money coach.
So when do you know you're ready for a money coach?
Nicole says, "The way we choose our goals has a direct financial component. Making sure your lifestyle, savings and debts align with the direction you're trying to go. If you know what your goals are and where you want to go and you're ready to get there faster, then you're ready for a money coach."
A typical consultation with Nicole might first be about getting out of credit card debt since that seems to be the main reason people come to her. However, Nicole says that the faster we can address that, the faster we can get people through the tunnel and on track to meet other goals. It's that easy.
If you're ready for a money coach, you can sign up for her free Budgeting Starter Kit to start looking at categorizing your spending habits and get a free consultation. You can contact Nicole Cooley at nicole@moneywithmoxie.com or visit her website Money with Moxie.