Submitted by: The Chrysalis Inn & Spa
The Chrysalis Inn & Spa was proud to present their July spa donation in the amount of $1,930 to Our TreeHouse. Our TreeHouse provides resources and support in Whatcom to grieving children, teens, their families and their communities. Because they believe that no one should grieve alone, Our TreeHouse helps families and communities heal together.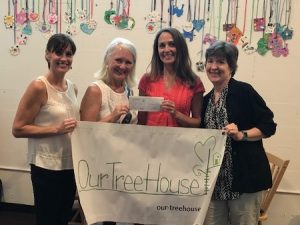 Our TreeHouse is a safe place where families come together to hurt and to heal through Family Night Support groups or Teen Night Support groups. They also provide outreach to any school or business in the community after the death of a student, teacher or employee.
The Chrysalis, a locally owned hotel, spa and restaurant on Fairhaven's waterfront, recently announced that they will contribute one percent of revenue from the Spa to a Whatcom County non-profit each month. They have given almost $12,000 since February. August's recipient will be The Lighthouse Mission.