Submitted by: Kevin Coleman
Located at the Holiday Inn Hotel and Suites by the airport, northwater restaurant is shaking things up with their new dinner series. For the first time, northwater and Executive Chef Christy Fox, have teamed up with Atwood Ales to bring five course meals like no one has ever seen or tasted. It is not that often that people think of pairing beer and fine dining together, but that's what Atwood Ales and northwater are all about. It's all about breaking the mold to new dining experiences.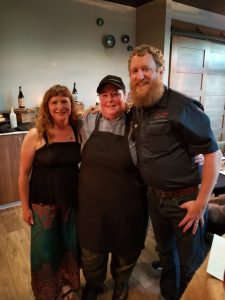 Monica and Josh Smith, of Atwood Ales, were very excited to team up with the first dinner series. "When Chef Christy asked us to be part of the very first Supper Club dinner, we were thrilled," says Monica. "We've gotten to know Christy and her wife, Shannon, co-owners of Evolve Truffles, as part of the Bellingham Farmers Market community."
Christy Fox explained that she wanted to create food that was introductory to Atwood Ales – the style in which they brew their beer has such familial connection. "I wanted fun choices that were intriguing and not off putting," says Fox.
Since Belgian and farmhouse craftsman ales were the focus, the ingredients and coursing was done with Monica and Josh in mind. Simple but complicated, flavorful but not spicy, heat that compliments the nuances of the beer. "We share the same belief of community and comraderies and I wanted the base of each dish to be a good view of how I see Whatcom county and offer up an experience delivered by northwater," says Fox.
Monica continued to say, "The way that Christy plays with flavors in their truffles, caramels and other treats is just the tip of the iceberg that is Christy's culinary mind. Sitting across a table, tasting beers and discussing menu ideas is always fascinating with any chef, and after an hour or more, Chef probably had three different five-course menus outlined. What came to fruition at the dinner was equal parts delicious, unexpected, textural and incredibly thoughtful. The way that Chef Christy plays with, and contrasts, textural elements while still maintaining an overall cohesiveness to each dish may have been our favorite part of the experience. Salmon crudo with saved fennel, cacao nibs and oyster stout ice cream? Yeah, she did that, and it was wonderful."
Guests sat down to an intimate setting, with excitement for the five courses and ales that accompanied them. The ambiance and overall feeling were sophisticated and a great way to meet new people. It really was an evening of great fun and food. The menu shows how much creativity and diversity were given to each course.
Atwood Ales Dinner
July 27, 2017
1st Course
Mo's Saison
Seared Scallop
apricot-marash pepper gastrique, fried lemon balm, heirloom tomato
2nd Course
Tinge of Ginge (red saison)
Beet Poke
ginger, sweet onion, avocado, harissa vinaigrette, sesame cracker
3rd Course
Oyster Stout
Salmon Crudo
Baker River salmon, shaved fennel, oyster stout ice cream, local berries
4th Course
Grange Bretta
Beef Under Cover
bison sausage wrapped filet mignon, parsnip puree, sugar snap peas, pan jus
5th Course
"No Whey Bro" (dry sour)
The Up Side
Pear cardamom upside down cake, citrus whip cream, toasted almonds
It's all about changing people's minds about beer and food! "As my wife says, 'It's a marathon, not a sprint," interjected Josh. He continued to explain, "The world is coming around to the idea of craft beer being paired with food on an equal or stronger footing than wine but it's still not an easy transition for everyone to make, particularly outside of major metropolitan areas. There is so much complexity, variation and nuance to craft beer due to the large palette of ingredients, processes, techniques and yeast and bacteria that brewers have at their disposal. Our ability to create flavor profiles to fit any food situation are nearly limitless." The great thing about this is chefs and buyers then have access to an incredible array of beer flavor profiles to complement, contrast and enhance the dishes on their restaurant menus."
The brain child behind this entire dinner series and collaboration began with Juli Wavada, Food and Beverage Manager for northwater. "Events like this are where our passions shine. The food and drink, the ambiance and the genuine connections made represent what we strive for every day.
"The Supper Club Series also allows our staff to show off all the hard work and training they have put in. The intimate setting puts them front and center and exercises their knowledge and speaking skills, while allowing them to really connect with our guests. I'm so proud of our team and how much they care."
Josh Smith at Atwood Ales continues, "We have some great chefs and restaurants in town who are pushing to elevate these pairings. It is exciting to work with restaurant industry folks like northwater and Christy Fox, who are excited about using craft beer this way, particularly if they haven't necessarily been exposed to how well Belgian and farmhouse ales work with food."
Chef Fox also agrees with Josh and Monica. "I look forward to the next beer dinner, such a fun and inspiring collaboration."
At the end of the evening, Juli Wavada was very thrilled and excited about the dinner's success. "The laughter and smiles radiating through the room gave me goosebumps! There's nothing more rewarding in this industry than seeing people truly enjoy themselves."
To learn more about northwater and the Supper Club series click here.