When you enter Sarah Chan's home in Birch Bay, your nostrils are gingerly awakened to curry, cardamom, thyme and culantro. With a mug of golden milk (a rich antioxidant blend of turmeric, coconut milk, ginger, black pepper and cardamom) in hand, I sat down with my friend to talk about how her Caribbean catering and product line began.
The origin of Calypso Kitchen was a long and arduous one for Sarah, who is from the Caribbean islands of Trinidad and Tobago. Her move to the U.S. in 2006 was impromptu, but necessary to ensure the safety of herself and her daughters from an extremely abusive relationship. Unfortunately, like so many other places in the world, there were no real systems put into place to protect victims of domestic violence in Trinidad and Tobago.
Sarah is a social entrepreneur. "My experiences come through my cooking. I have found that when I teach cooking classes, because  the groups are fairly small, I am able to really connect with people individually. I am able to not only teach people how to cook delicious food to feed their bodies, but also take a bit of time to feed people's minds by bringing awareness to pressing issues. Foremost for me are issues of human trafficking, domestic violence and hunger. Most people are very receptive of learning something new. With quite a few successes under her belt, Sarah has been patiently waiting for the opportunity to start anew. She is making this happen through Calypso Kitchen, a business that offers a line of sauces, spices and seasonings, catering, chef services and cooking classes. Starting in September, Calypso Kitchen will be based in Bellingham at 4073 Hannegan Rd.
When asked how she got started, Sarah began her story. "Four years ago when I applied for jobs, I became quite despondent by the lack of responses and the few responses that came back never turned into job offers. I made the decision that I had always been an entrepreneur so that was the direction I would have to pursue. Why not work for myself, create the job that I needed? Hence the birth of Calypso Kitchen and a legacy that my kids could carry on if they wanted."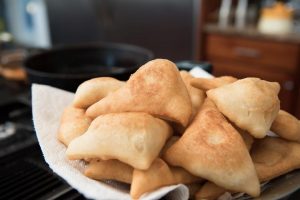 Sarah's passion for teaching cooking comes from her grandmother, Dolly. Though Dolly was a very quiet woman of few words, Sarah watched her fervently create amazing dishes from her particular region of Freeport, Trinidad, with fresh produce she had grown in her backyard or brought from her visit to the local market. Trinidad and Tobago's local cuisine consists of an enviable culinary landscape of flavors that ranges from mouthwatering street foods to exceptional fine dining. The cuisine of this twin island nation has been influenced by its diverse population of Asian, African, Creole, Middle Eastern and European transplants. Sarah found that as she was teaching cooking classes, she would also talk about her experiences in Trinidad and knew that they were intricately intertwined with how she cooked and why the legacy of Caribbean cooking was such an important legacy to leave to her daughters.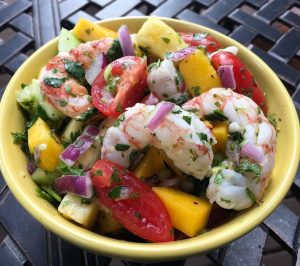 Two years ago, as Sarah, our friend Irena and I sat at her kitchen table after a fabulous meal of tamarind jerk chicken, curry chickpeas and pineapple chow, we began to talk about Sarah's new venture. While learning how to make a bread much like a type of naan called "buss up shut," we started our marketing strategy around the launch of Sarah's catering business and her products of sauces and fresh seasonings. To get ideas and be inspired, we watched calypso music videos, and Sarah even demonstrated some dance moves for us. After bantering around a few names, we finally landed on Calypso Kitchen.
Sarah has recently secured a business location in Bellingham from which she will launch Calypso Kitchen Catering. She will also offer cooking classes and host pop-ups out of this location. Sarah occasionally offers cooking classes at Community Food Co-op in downtown Bellingham and, in the past, has offered a cooking class for kids at the Blaine Elementary School. Her goal for Calypso Kitchen is to find a way to offer these same classes to more kids throughout Whatcom County, while growing her business and line of sauces, seasonings and spices she offers. One of the many condiments that she makes, "Mother-in-law" was featured in Maco Caribbean Living magazine along with a recipe by chef and cookbook author, Chef Ramin Ganeshram. Sarah even delivers food to your doorstep on certain days in various locations around Whatcom County.
You can check out her facebook Calypso Kitchen or Instagram Calypso Kitchen where she describes the ingredients to her dishes, how she cooks them and their origin. There you will see a wide variety of dishes that she uses in her catering as well as delivery options.
My Calypso Kitchen
my.calypso.kitchen@gmail.com
347-413-3983
https://www.facebook.com/my.calypso.kitchen/
https://www.instagram.com/calypsokitchen/