Update: Helene & Co. is now Urban Collective. 
Solveig Johnson has always had a knack for design. Growing up she'd pour over shiny catalogs and magazines in her hometown of Haines, Alaska. By the time she headed to college she knew she wanted to become an interior designer. Unfortunately, her plans hit a snag when her guidance counselor asked if she could draw.
"I said I couldn't and they said that I couldn't be a designer," she explained. "I should've gotten a second opinion. There are ways to learn that craft – you don't have to be born with the gift."
Years of being a single mother, Johnson put her ultimate dream on hold to pay the bills and just survive. She was an outside sales representative for high end salons and eventually, when her children became older, got into real estate to fulfill that design need. She's been a Realtor for three and a half years now, but her aptitude and passion for design is stronger than ever. Whether she's staging a house for sale or consulting homeowners on a redesign, Johnson has a way of helping people see their space in a whole new light. "I was always giving people advice that came really easily to me but were huge a-ha moments to them," she shared.
Later this month Johnson will celebrate the Grand Opening of her longtime dream of opening a brick and mortar store, Helene & Co., a charming new shop just on the outskirts of downtown Bellingham. The bright, open shop and design studio is a natural extension of her real estate business. As a Realtor, Johnson helps people find a house, but with Helene & Co. she helps them make it feel like home.
"It's a different approach and a different vibe than anything else in Bellingham, and it's always changing," she explained. Due to the unique nature of what she curates, you can't count on things being there all the time. She scours the internet (especially Instagram) to find gorgeous pieces made with care that may not be available for long. So if you like it, snag it! "What's on the floor is for sale and then I bring new stuff in, which keeps things from getting stagnant," she said.
Helene & Co. allows Johnson to connect and build trust with potential home buyers without uncomfortable cold-calls or sales pitches. "I'd like to meet people in an organic way – for people to see who I am and see what my vibe is," she said. "I can help them figure out a problem area in their house or stage a house to get it ready to list. It may be a non-traditional way to market being a Realtor but Johnson is in it for the culture and the relationship.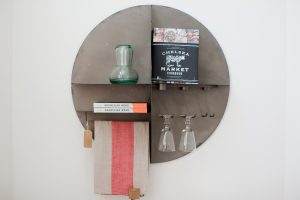 And it's easy to feel at home at Helene & Co. because Johnson prides herself on creating a warm space that feels clean and classy without feeling pretentious. She warmly greets each person who walks through the door and is available to assist as needed without hovering.
"Some people who have come in have told me it's like a cross between West Elm and Restoration Hardware," she explained. "Which is a HUGE compliment!"
She does offer pieces that are higher-end than some local shoppers may be used to seeing but Johnson is able to help folks know when to save and when to splurge. Mixing high-end pieces with bargain buys is a great way to stretch your design dollar while still showcasing unique pieces.
Boutique retailers like Johnson can't compete with online and discount retailers on cost but thoughtful curation and unique offerings are what really set small, independent shops like Helene & Co. apart. Johnson takes care to find special pieces you can't grab off the shelf of a big box store.
And Johnson's shop has a bevy of beautiful items sure to tempt the most discerning shopper. From flatware and drinkware to furniture and home decor, you can find special goods that are perfect for adorning your space or gifting to a friend. Plus the shop – arranged like an open living space – is sure to inspire you to freshen up your own home.
Discover beautiful home decor and enjoy special one-day discounts, prizes and light refreshments at Helene & Co.'s Grand Opening on Thursday, August 17, from 4:00 p.m. to 7:00 p.m.
Helene & Co.
1303 Astor St #102
Bellingham
360-393-4908
http://heleneandco.com
https://www.facebook.com/shopheleneandco/
Sponsored