If building community and supporting local business were a competition, the Ferndale Chamber of Commerce Ambassadors would be winning. A program that is essentially designed to promote the chamber's services and programs, this enthusiastic group has become a vital part of the city of Ferndale itself.
"Ambassadors serve the chamber but I would also consider them goodwill ambassadors for our community as a whole," says Kelsey Rowlson, Director of Membership for the Ferndale Chamber of Commerce. "They want to make this area the best that it can be and they believe that being a part of the chamber will allow them to have an effect in making this happen."
Recently elected Ambassadors Alivia Jelinski (Front Desk Manager at Home2 Suites by Hilton) and Alyssa Springs (owner of Flow Motion wellness sanctuary) both believe that there's one important step in being a part of the program. And it's pretty simple – just get involved!
"Get out there and meet people," Springs says. "You can get involved as much or as little as you want. Of course, the more you put in the more you get back out of it."
"What you get out of being involved in the program is 100 percent related to what you put in," Jelinski says.
And the Ambassadors certainly do put quite a lot into their time served. "I participated in almost all of the monthly or frequent programs, such as Member of the Month deliveries, Networking Lunches, Leading Ladies, Ribbon Cuttings, Power Hours and Business Unplugged, Board Meetings and New Member Orientations," Jelinski says.  "I also took part in some of the special events like the Chelsey Ebert Auction and Golf Tournament, Ferndale Street Festival, Spring Run Off, Community Christmas Tree Lighting, Haunt the Park, Pumpkin People judging and the Chamber Awards Dinner and I had a fantastic time!"
"We truly would not be able to pull off these events without their assistance," says Rowlson.
Along with the fabulous parties and special events, there's the aspect of encouraging new members and spreading support throughout the community, which really strikes a chord with Springs. "It's all about hospitality and celebrating each other's successes," she says. "I really like that part – making people feel welcome and growing the community – that's what I'm all about."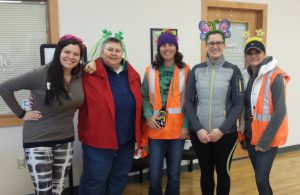 Young entrepreneurs can take advantage of resources like the bi-monthly educational Power Hour sessions that cover timely topics all businesses can appreciate. For example, this past June CJ Seitz, Director of the Small Business Development Center, spoke about the SBDC's many services in advising and training.
"But it's not just all business," says Springs. "The chamber does a lot to beautify the community and family-oriented activities. It's kind of like creating a bridge between the community and the businesses, and vice versa. The more the businesses give back and invest in their community, the more the community will want to do business locally."
By taking care of and supporting each other, these dynamic go-getters are able to grow individual careers while also growing the community, bringing the positivity full circle.
Sponsored