I studied English Literature and Creative Writing in college. I read innumerable books, excerpts, short stories, poems and essays. I participated in twice-weekly writing workshops where we discussed themes, motifs, dialogue and intention. Sometimes class would rendezvous under a tree on campus, sometimes we would read Shakespeare in our professor's living room. Even at the time, it was a romantic endeavor. Now, fifteen years later, my memories lack any of the deadline anxiety or final exam stress and play like a film in my mind, a montage of dreamy scenes through a lens of distance and nostalgia.
I've been taking a very long hiatus from those mellow days of quiet contemplation and conversation. I'm reading a lot of board books to toddlers now and discussing the finer points of Curious George rather than The Brothers Karamozov. I think, however, I might be ready to talk literature again.
My mother-in-law, a person in a near-constant state of reading, formed a book club a few years ago and revels in the discourse with her fellow book lovers. Their meetings rotate among members' homes where they snack on small plates of food and sip wine. Most important to my mother-in-law is that the settings foster intimate conversation. Whether the members are perched on stools at a kitchen island, relaxed on a sectional around a coffee table or poised in armchairs before a hearth lit with a crackling fire, there must be a strong sense of place.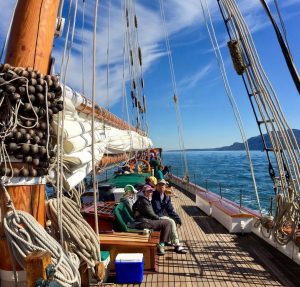 I recently heard about what is perhaps the most romantic, most adventurous, most intriguing location for a book club—The Schooner Zodiac, a classic two-masted gaff topsail schooner, circa 1924. For all you landlubbers unfamiliar with those terms, like myself, the Schooner Zodiac is one of those gorgeous, stately, old ships with multiple sails that look like they were painted on the sea's surface. In a fog, they can look like a ghost from another century.
But the Schooner Zodiac is a real, three-dimensional ship, not an open-water apparition. She sails regularly thanks to thousands of hours of volunteer labor and a highly-trained live-in crew that keeps her seaworthy. In addition to day cruises, dinner cruises and private charters, you may also book a multi-day cruise aboard the Schooner Zodiac. I have suggested one in particular for my mother-in-law and the members of her book club. Books A'Sail is a three-day, two-night "literary journey" amidst the splendid scenery of the San Juan Islands, which takes place September 12-14, 2017.
Village Books in Fairhaven is the official sponsor of Books A'Sail and owners Paul Hanson and Kelly Evert will be on board to guide the literary portion of the weekend. Their primary book selection is local author Jim Lynch's new book, Before the Wind, a story about a multi-generational boat-building family set on the waters of Puget Sound. An avid sailor, Jim has cruised these coastal waters since childhood and he, along with his wife Denise, will spend this late-summer weekend aboard the Schooner Zodiac affording passengers a very unique opportunity to explore the connections between sailing and Jim's Northwest writing life. Paul and Kelly have also selected two companion books for the cruise – Einstein's Dreams by Alan Lightman and Tides: The Science and Spirit of the Ocean by Jonathan White.
Last year was the inaugural voyage of Books A'Sail. Paul and Kelly tell me that it was a resounding success and they cannot recommend it enough. They describe the book-club aspect of the cruise as a guided "free-forming" experience. The passengers will decide how and when the hosted discussions unfold.
Typically there is a full day of sailing, the boat drops anchor in a secluded area of the islands for the night and out come the books. But participation is totally up to the individual. "It's self-determined," Paul adds. "You're going to get out of it what you put into it."
Kelly stresses that while this is a book-themed cruise, it is not wholly-focused on literature. Passengers aboard the Schooner Zodiac are treated to classic sail training during their stay. This is an interactive, completely voluntary educational experience where you learn about all aspects of navigating the vessel. And what if you are a landlubber like me? "You bring good gloves along so you can stand in a line and hoist the sails," assures Kelly.
There are also opportunities to disembark and explore the islands before gathering for a delicious dinner and an intimate group conversation above or below deck. One thing that Paul mentioned that really stuck with me is that passengers have freedom to roam the ship. You can eat in a group or take your plate to a quiet corner of the deck. You can assemble for the discussion or curl up with a book in your bunk. And, perhaps the most romantic of all, if the weather is conducive, you can sleep on deck, under the stars. I called the Zodiac Schooner folks to confirm that. You can.
Talk about a sense of place.
Books A'Sail 2017
Date: Sept. 12 – Sept. 14, 2017 (3 days)
Standard Bunk: $595 per person – includes all meals.
Stateroom: $675 per person double occupancy
Boarding Time: 9:30 a.m. Return: 3:00 p.m.
Sponsored