Dale Serbousek, when he moved to Bellingham in 2000, recalls looking out at the bay and all the boats. "I used to think, 'That's so cool, it must be nice to be a millionaire and race sailboats,'" he says. Now the local real estate broker with RE/MAX Whatcom County, Inc. is actively involved with Bellingham's sailing community and the Bellingham Bay Yacht Club. He says he also learned one does not have to be a millionaire to race sailboats on the bay.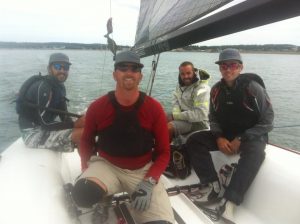 "I never knew I could be out there myself until I talked to the right person," Serbousek says of his first time on a sailing boat with local dentist Eric Yaremko in 2013. That first experience led him down the road of buying his own boat in 2014 and sailing in regattas regionally.
As a member of the yacht club, Serbousek connected with a group of people he knew he could learn a great deal from and from whom he would find support. He credits Cathy Franklin of Chariot Adventures, a local company offering sailing lessons and charters with preparing him for his own sailing experience.
"Sailing is a great thing to have in your life," he says. "It can build a lot of confidence and self-esteem."
Serbousek's love of sailing has now passed to the next generation. Serbousek's daughter Natalie has taken the sailing baton and become a part of the high school and BYC sailing teams in Bellingham. With the support and encouragement of Mike Powell, BYC Youth Sailing Director and an avid supporter of the sailing community, young people throughout Bellingham are becoming increasingly excited about sailing. After all, Bellingham was voted one of the five best places in the U.S. to sail by Sailing World magazine.
Serbousek is excited to see his daughter participate in the sport that created a new connection for him in the community as well as taught him something new and gave him a new experience. He describes the great friends his family has met through the sailing community and the enrichment it has brought to his own life. "I have really valued getting out and meeting new people in our community," he says. "I've learned new things and met great people. We have a great community."
Sponsored