A decade ago, husband-and-wife team and A-1 Builders Inc. owners Rick Dubrow and Cindi Landreth started thinking about their legacy. Rick was turning 60. "I've often heard people describe 60 as the 'youth of old age,'" says Dubrow. "It's when you start thinking, 'Wow, my time here on the planet is on its last quarter or last third. What really matters?'"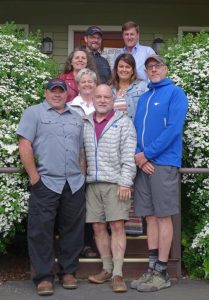 The idea of selling A-1 Builders to their employees made a lot of sense to the pair. But although worker-owned cooperatives are becoming increasingly popular—due to their many benefits, including impressive productivity and high staff morale—the process of transitioning from a standard business to a worker-owned model is less common. Yet the forward-thinking duo thought the end result would be worth the effort. Their decision was solidified in 2010 when Dubrow and Landreth attended a U.S. Federation of Worker Cooperatives conference in Berkeley, CA.
"The conference sealed the deal," Dubrow says. "I realized that a worker-owned cooperative isn't just a succession plan … it's a social movement. The passion that surrounds the model is electric. After the conference our vision had a blueprint. Design was done. It was time to build."
And so, after more than a decade of planning and deliberating, A-1 Builders officially became a Subchapter-T Corporation on July 1 operated by five initial owner-members: Patrick Martin (General Manager), Shawn Serdahl (Production Manager), Bobbi Plata (Office Manager), Maggie Bates (Design Manager) and Justus Peterson (Estimator and Project Management). These five have already logged 56 combined years with the company. And after the dust settles, the plan is to hopefully accept all qualifying employees as members of the cooperative.
"If we've done our job properly and created a good organization, our transition should be relatively easy and attractive," Martin says. "In the most basic ways, the day-to-day management of the company doesn't change. But the result is that people have a much deeper understanding of their involvement and their ability. We're crafting a team at a different level than we have in the past."
Every worthwhile project needs a great team to make it happen, so the crew took advantage of local seminars and workshops on the co-op structure through Sustainable Connections and the Community Food Co-op and sought out local experts to assist in a variety of areas. Tom Dorr, of Dorr and Associates Consulting, served as the primary business strategist and transition "quarterback," while Eric Grimstead and CJ Seitz, of the Small Business Development Center (SBDC), a free and local resource, helped pinpoint the company's key performance indicators. Attorney Mike Jacobson and CPA John Mackey were also key players, referred by another worker-owned cooperative, Bellingham Bay Builders.
Martin believes the process itself has been integral in aligning and strengthening the team into a healthy and productive cooperative. "It's been this dynamic, organic process where we've bashed our way through our frustrations and that has altered the way in which we work," Martin says. "As we can continue to make it through these processes with one another, we learn to work together better."
The co-owners have taken the time to train staff properly on the essential components of ownership. An essential step in the company transition proved to be the metamorphosis of staff members into owners. "The extremely unique aspect of this transition is found in the structure of the worker-owned cooperative itself and how Rick and Cindi have worked with their employees to show them how they could become successful business owners," says Grimstead. "They have been willing to invest a lot of time and money in training their people in the various areas of running this business."
For those who have worked with A-1 Builders, taking on this rather unexplored territory and giving such attention to detail is not surprising. In addition to this cooperative, the Dubrow/Landreth duo leave an impressive trail of new local organizations they helped create during their careers: Sustainable Connections, Pro-Whatcom, Futurewise Whatcom, Transition Whatcom, Coal-Free Bellingham, Whatcom Folk School. Like these other organizations they birthed, their company has always been driven by what Dubrow refers to as triple bottom line management: considering people, planet and profit. Shouldn't the people who helped grow the company be the ones who then take it to the next level? Who is better able to operate this company than those who've already done so?" Dubrow says.
And the definition of "people" for the company extends beyond the staff. Customer care is the highest priority at A-1 Builders. Employees are continuously building positive relationships with their customers and the community.
Martin sees all of the different elements of business in a continually evolving cycle, where every aspect of the business affects the overall entity's ability to succeed. "There is this reflective process that's happening between the way we work internally as a company and what's happening with our clients," Martin says. "And hopefully one step further is our relationship with the community."
Conversions of this sort may be rare but A-1 Builders' successful transition has paved the way for others, laying down the groundwork for other businesses and organizations to follow as a viable, sustainable option in retirement and succession planning.
Sponsored