Eighteen years ago, Brian Hardy, owner of FizzPOP Media decided to begin his career as a graphic designer. As a high school student listening to a presentation from a graphic designer in his art class, Hardy decided that this was the path he wanted to pursue. "I knew that's what I wanted to do," Hardy says.
Ten years ago Brian Hardy got into web design to work with growing businesses in a new generation of marketing that was happening online. Self-taught and with on-the-job training, Hardy has always believed in helping businesses and people find the right, most productive way to grow their business. Starting out, he knew it was about finding those people who would give him a chance.
"It's about meeting the right people and doing the right thing," he says, describing how successful businesses grow.
Meeting the right people is just what Hardy has done in Whatcom County.  Three years ago, he and his wife, Dana decided to make the move after visiting Bellingham. After meeting some incredible people, as Hardy describes, they decided Bellingham was where they wanted to plant roots. It was this move that also prompted the creation of FizzPOP Media, a company that focuses on the design of effective and engaging websites for businesses.
With FizzPOP Media, Hardy's approach to web design goes deeper than just pictures and words on a page. He digs into the business, getting to know the people running it, what motivates the customer and even the sales process.  He explains that an effective website will engage its visitors which means more sales and growth.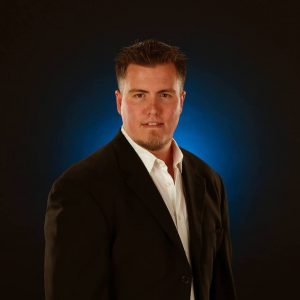 Hardy sits down with his clients for a consultation at the very beginning of the process. This creates a customer persona that will result in the best website with the most effective message to attract and retain visitors. "We'll always tell you the truth," Hardy says. "You're paying for our expertise and we're here to help you."
Hardy explains that an online presence is a reflection of a business and is often times the first impression of that business. It is through the creation of an effective website, one that goes beyond the coined word for a static website – "brochureware," that a business is able to see results.
"You know more about your business than we do," says Hardy. "But we know how to grow your business through online exposure."
This commitment to working with and helping businesses create a strong online presence is a reflection of Hardy's own commitment to his personal growth and business. Having never taken formal training in graphic or website design, Hardy has continuously dedicated himself to learning what it takes to be an effective designer that understands how growing through an online presence works.
After deciding on a future in design, Hardy moved from his home in Arizona to Florida. "I moved to Florida because I could," he says. "I wanted to go so I found a way to make it happen."
It is that resolve and tenacity that has led Hardy to follow his passion for creating growth opportunities for the businesses he engages with. He is so passionate about this work that he even offers free advice to anyone that simply asks. In fact, he has created a newsletter that is full of tips on creating a better website that will result in more engagement and conversions. Working on his own for the past 18 years, Hardy truly understands the dedication it takes to grow a business. He gets great satisfaction in seeing this hard work pay off for his clients.
One of the first things on his agenda after moving to Bellingham was to get involved in the community and meet as many people as he could. Becoming involved in Whatcom Young Professionals introduced Hardy to the local business community and opened the door to growing a business locally. And the doors kept opening as he joined local chambers of commerce and other networking groups.
FizzPOP Media, recognized in 2016 as Best of the Northwest—Best Creative Company, continues to bring the creative side of promotion full circle. Because of his extensive design background, Hardy understands the importance of a logo design and print collateral and how well it needs to work with and complement an online presence for a business. When he works with clients, he ensures that all of their marketing works together to deliver the same, consistent message.
When you are ready for a web design and marketing business that truly wants to see your business grow and improve, look no further than FizzPOP Media. From design to delivery, your business will only benefit from an online presence that is all about creating excitement, engagement and conversions.
Sponsored