Owned by famed Whose Line is it Anyway? actor, producer and comedian, Ryan Stiles, Bellingham's The Upfront Theatre features quality improvisational acting performances born directly from the clever, and sometimes devious, minds of their Mainstage Ensemble. With shows at least three nights a week that occasionally include a surprise performance by Stiles himself, you're guaranteed a memorable evening of fun and laughter. Beyond the stage, The Upfront also brings value to the community. Their private shows, corporate development, school outreach programs and improv classes ensure that patrons of any age can find their own creative magic.
Act One: From Humble Beginnings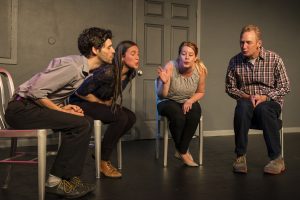 Ryan Stiles was born in Seattle and got his start in comedy doing improv in theaters in Vancouver, B.C. Improv (short for improvisational acting) means performing without a script, making the content up as you go along. Stiles began his career with the British version of Whose Line is it Anyway? in 1988. He moved on to the American version in 1998, which he is still a part of today. He also appeared in all but two episodes of the Drew Carey Show's 10 year run as Lewis Kiniski. Along the way, Stiles made a conscious choice to live and raise his family in Bellingham, while working around the United States and Canada. Stiles first opened the 100-seat cabaret-style theatre in 2004 so he could improvise in front of a live audience when he wasn't traveling.
Although some of Ryan's friends are famous comedians visiting from out of town, the Upfront is a true community theater. Most of The Upfront Theatre's performers are talented members of our Whatcom County community. On stage you'll be entertained by an ensemble that includes students from Western Washington University or Whatcom Community College, local business employees and owners, public servants and those enjoying their retirement in style.
Located on Bay Street in the Downtown Bellingham Arts District, The Upfront Theatre is the place to appreciate creative improv comedy as an art form while also enjoying a memorable evening with friends and family. They've also become known as a tremendous date-night location.
Act Two: What They Are All About
If you're not familiar with improv, you're in for a treat. In each of the 280 shows performed at The Upfront each year, a trained group of hilarious adults work together to create unique characters that go on adventures together live on stage, often based on suggestions from the audience.
Thursday's The Good, The Bad and the Ugly, also known as the GBU, is Bellingham's longest running improv show. It's an incredible bargain at only $8. The format varies but fun is guaranteed. Completely unannounced, you may get to see Stiles himself on stage flirting with his pretend wife while carelessly driving a Winnebago or making up a song on the spot, based purely on audience suggestions from you and your friends.
While some shows are free-form, many Friday and Saturday night shows are themed and have built a local following. January's Space Trek is one of their most popular formats because improvisers let their favorite elements of Star Wars, Star Trek and other classic sci-fi shows inform their performance of a wacky space mission. February's popular dating game show Cupid's Arrow helps patrons celebrate Valentines in style. The improvised western comedy Tarnation brings to life the tropes and ridiculousness of your favorite western films. October's Hellingham shows often sell out because audiences love the spooky Halloween murder mystery format where three performers die and one is the culprit, and no one knows "who dunnit" until the very end, including the performers! Audience suggestions inform each performance and patrons vote for their guess of "who dunnit" during intermission. Holiday-themed shows make fun of everyone's winter holidays and their New Year's Eve shows are the best way to ring in the New Year.
Throughout the year there are a host of other creative formats, some new, some tried and true. Developed by the theater's Artistic Director and Mainstage Ensemble, they bring variety to the stage—from improvised musicals, Shakespeare and poetry to stand up and sketch comedy—you'll never see the same show twice.
Students from the Upfront School of Improv occasionally perform culminating shows, many of which become their first time performing in front of an audience.
The Upfront offers a range of classes from the absolute beginner to advanced classes for those trained in the arts. The Upfront has two spaces they use to teach classes including the main stage. Classes range from beginners up to advanced students. They also offer classes for youth in two age groups, Youth Classes for ages 10 to 13 and Teen Classes for ages 14 to 17.
For many students, taking a class can be life changing. "In many of our beginner classes we play improv games. They accomplish goals like learning to focus, channeling impulse and connecting with other people, including becoming comfortable with eye contact," explains Upfront General Manager Billy Tierney. "Students also learn practical skills that can be applied elsewhere. Improv builds self-confidence. We create a safe place to make mistakes and use that as a really powerful tool."
Some of the students that have passed through the School of Improv audition for The Upfront's Satellite Ensemble. This group is made up of up-and-coming and emerging improvisers from a variety of backgrounds. The group works with the Artistic Director and performs regular shows to hone their skills. Some eventually audition and join the Mainstage Ensemble.
The majority of The Upfront's shows are performed by its diverse Mainstage Ensemble. This group is constantly evolving. Some members have been in the ensemble since the theater began, while others are new to Bellingham. Many former Mainstage Ensemble alumni now perform around the country including Chicago, New York and L.A. Their talent shines when they work together to create something new, playful and different, on the spot before a live audience.
Act Three: Connecting in the Community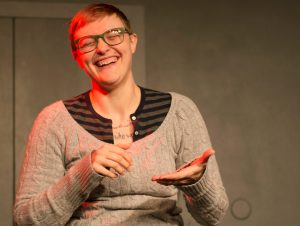 The Upfront isn't limited to its own stage. They take improv out into the community, providing custom options that fit the needs of the organization, school or business.
There is no greater way to make a celebration memorable than to bring improv on-site to your location. Some members of the Mainstage Ensemble perform at private parties and corporate events. Holiday parties, anniversaries and summer celebrations are made special by performances focused solely on your group or area of interest.
The Upfront also offers communication-based workshops for businesses who want to develop a positive, collaborative work environment and culture, giving employees the tools to communicate successfully with co-workers and customers. BizProv Trainings bring the benefits of improv into the work place. They emphasize positive, connected communication and morale and teach the value—and power—of listening. Their creative staff development workshops can be held at the theater or at your location.
The Upfront also takes its instructors to area schools. They work hard to engage the mind, body and imagination of each student through improv games and exercises. They practice teamwork, positive communication skills, build confidence and help students discover their own untapped potential in a fun and safe group environment. Their range of fun, engaging options fit the individual needs of each school and supplement existing programming. Through weekly after-school workshops, one-time classroom visits and interactive assembly presentations, The Upfront brings laughter and confidence to area students in an affordable, accessible way.
Act Four: Opportunities to Get Involved
Because of the breadth of The Upfront Theatre's program, there are a variety of ways to become a part of The Upfront community. After a brief volunteer orientation and training, members of the public can volunteer to help out on show nights. You'll get to watch the shows for free, meet the improvisers and patrons and learn more about what it takes to put on a show.
After watching a show, many people think, "They're having so much fun. I'd love to do that!" Upfront classes are taught in affordable eight week sessions on a quarterly basis. New sessions begin each January, April, July and September along with special one-time classes and summer camps.
Can't commit to a class? You can try one or more of The Upfront Theatre's free monthly drop-in sessions on the first Saturday of each month at noon. It's a great way to dip your toe in the water. Simple improv games are adapted to any skill level and it's a great way to make new friends.
Local businesses can also get involved through BizProv and by advertising with the Upfront. With a diverse audience of between 1200 and 2000 patrons per month, the Upfront offers a variety of on-screen and on-the-table opportunities to get your product, service or event in front of a very happy crowd.
The Upfront Theatre
1208 Bay Street
Bellingham, WA 98225
360-733-8855
www.theupfront.com
Sponsored