When you think of Community Food Co-op, you probably think of fresh, local produce and a bevy of natural food and wellness products. But you might not realize that they also offer dozens of Healthy Connections classes on a monthly basis, all of which are open to the public. "Our Healthy Connections classes include everything from beer tasting and wine sampling to gourmet cooking," shared Community Food Co-op Outreach Manager Adrienne Renz.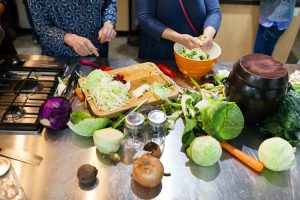 Community Food Co-op has offered Healthy Connections classes for many years but their offerings have expanded with the addition of their beautiful Local Roots Room and Healthy Connections Building classroom.
"We've partnered with Whatcom Community College on food and wine classes since 2009," shared Renz. "Classes are open to everyone and they're variable prices depending on experience. We also have kids' classes in the summer." Whatcom Community College's quarterly mailer lists the classes, and a calendar is also available online.
Talented instructors from all backgrounds teach classes catered to just about any interest. "We end up getting quite a few experts at their craft," shared Renz. "I'd say Hayley is a coffee guru. Robert Fong, who used to own the Pacific Café, offers super popular classes. Coco from Elizabeth Station does beer sampling so people can learn about beer."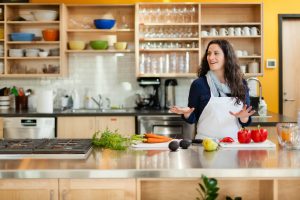 Two Beer Tasting 101 classes in July will focus on summer beers and IPAs. Participants will learn about the history of the styles, food pairings, proper glassware and tasting notes in a fun and easy-going setting. Instructor Coco Ryan is a beer educator and enthusiast who works at Elizabeth Station, so participants are sure to get valuable insight from an enthusiastic teacher.
It's that enthusiasm from instructors that makes Healthy Connections classes at Community Food Co-op so engaging. "We look for people who are passionate in their fields," Renz said.
Sometimes they don't have to go far to find capable instructors. "As a Co-op employee it's nice because I get to see some of my regular customers in a different setting," shared Cordata Assistant Cafe/Deli Manager and Healthy Connections Workshop Instructor Hayley Forney. As Community Food Co-op's resident coffee guru, Forney teaches classes about coffee extraction methods and how to use them at home. During her July class, Cold Brew Coffee with Hayley, Forney will demonstrate how to cold brew coffee and how to concoct a couple different drinks participants can make at home.
"As someone who really loves coffee and has gathered a lot of information about coffee, it's a great opportunity to nerd out," she shared. But as much as she's learned about the art and science of coffee, Forney also looks forward to what she can learn when instructing a Healthy Connections class. "I love sharing what I know with our co-op and community members but I learn a lot too. This is probably my favorite part about teaching a class – learning so much from the students attending. It's more of a collaboration between me and the people taking the class."
Interested in signing up for a Healthy Connections class? Check the online calendar and register online. There are courses for anyone, from kids to kids at heart.
Sponsored