Located in the Downtown Bellingham Arts District, Mount Baker Theatre (MBT) showcases some of the best live performing artists on both the professional and community level. But did you know MBT encompasses three venues? In addition to the architectural treasure that is the Main Stage and the community-friendly Encore Room, MBT's Harold & Irene Walton Theatre is the perfect venue to take in a world-class show up close and personal.
This August, audiences will have at least two chances to experience a little summer comic relief with multiple shows by two solo performers. Each show turns a clever eye on everything we know and think about men and women in our shifting culture.
If you've ever been confused and amused by the opposite sex, or your own sex for that matter, you'll love these upcoming one-person comedy shows. Each pokes fun at the differences—and similarities—between the sexes. From their own unique point of view, each looks at the wacky yet common milestones in our diverse life experiences.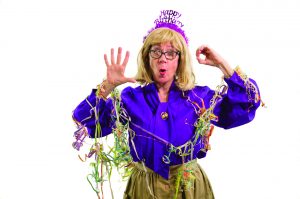 This August, MBT will host the gut-busting one-woman play, "Help! My Husband has Gone Missing, My Daughter is Getting Married, and I'm having Hot Flashes," by one of England's most exciting and popular playwrights, Louise Roche.
Having just survived her 50th birthday, Barbara has been thinking about many things, including the merits of Spanx and Botox. We follow her emotional, side-splitting journey through life as a modern middle-aged woman.
Award-winning actress, aerialist, choreographer, comedienne, dancer, director and illusionist Kimberly Richards has been playing the insightful Barbara since 2012.
Although this show is perfect for a girl's night out, men will also appreciate this funny and tender look at life through the eyes of an older woman. Audiences have eight rollicking shows to choose from in MBT's Walton Theatre between August 10 and 20.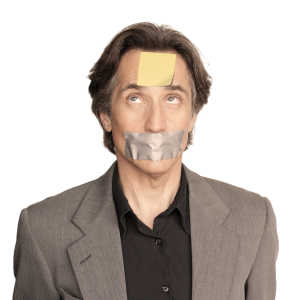 The best humorists make us laugh by drawing our attention to the everyday absurdities that surround us. Robert Dubac's humor is informed by his diverse background in show business. He was a film and television actor who also performed on a soap opera, worked as a television writer and was a stand-up comedian.
He's melded the best of those experiences to create the clever combination of theater and stand-up comedy, "The Male Intellect: An Oxymoron?" The show was described as,"Hilarious … a one man tour de force!" by The New York Times. 
Dubac explores social mores, political ideas and the complexity of the human experience by shifting effortlessly between several unique characters. Each contributes in their own way as they tell Bobby's story. Bobby just doesn't understand women. Everything he has learned about them, he's learned from other men—men who are just as clueless as he is, handing down the same lack of expertise, generation after generation.
"As Bobby grows older and becomes more mature, he tries to figure out what women want. He gets lots of advice from the bone-head friends he grew up with," explains Dubac. "Some of the characters are chauvinists who think they've got it all figured out. Although limited in their points of view, the little kernels of truth within each make us laugh—both at them and at ourselves."
Dubac originally began developing the seeds of this show back in the late 1990's and it has evolved gradually ever since as he's toured around the world. Some may remember that the show came to Bellingham more than eight years ago but Dubac isn't worried that someone seeing it twice wouldn't enjoy it. "The men I know don't remember half of a show by the time they get to the car," Dubac says. "Couples love this show because they see themselves and parts of their own relationships in the characters. The humor is in the way we think about and approach relationships. How we respect that other person we're involved with."
Audiences of any age will laugh out loud at these insightful, witty characters. With five shows to choose from between August 23 and 27, there are many chances to take in this hilarious hit.
The Beauty of the One-Person Show in Walton Theatre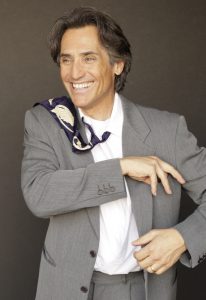 In the more intimate setting that Walton provides, you'll feel like you've personally met and laughed with each comedian. Since it's still equipped with state-of-the-art acoustics, sound and lighting, you get the benefits of a larger venue while still being close to the action. Solo performers also get used to carrying all the weight, making their shows shine as they perfect their craft.
Even before "Help! My Husband has Gone Missing, My Daughter is Getting Married, and I'm having Hot Flashes,"  Richards was no stranger to the one-woman show. Since 2005, she's given over 700 performances as "Sister" in the one-woman show, "Late Night Catechism," garnering her an Outstanding Performance Award, two Drama-Logue awards and three Dean Goodman Choice awards.
To Dubac, a one-person show is a double-edged sword. "It's great because you get to massage and work a piece that focuses on what you think is important. If it works, the success is yours. But if it doesn't, it's up to you to go back to the drawing board."
Whether you relate to Richard's portrayal of Barbara's uplifting journey that includes menopause or to the elements of truth buried in Dubac's absurd archetypal characters, these uproarious, cozy summer shows in MBT's Walton Theatre will guarantee lots of laughter and self-reflection for you, your partner and pals.
Mount Baker Theatre
104 North Commercial Street
Bellingham, WA  98225
Phone:  360-733-5793
Tickets:  360-734-6080
www.mountbakertheatre.com
Sponsored