There was an article written in The New Yorker a couple years ago about the Cascadia subduction zone, a fault off the coast of California, Oregon and Washington. The article basically said that a huge earthquake will hit the pacific northwest sometime in the next 500 years. Could be tomorrow, could be generations from now.
This eventuality profoundly affected me. For weeks I bordered on obsession. I memorized tsunami inundation zone maps and sent emails to friends and relatives about earthquake safety and preparation. I now have stores of food, water, gas and batteries, a crank radio/cell phone charger, battery-powered lanterns and a generator. My obsession has been replaced with preparation. Still, when I'm in a new place I plot evacuation routes and identify the sturdiest table in the room for any necessary "drop, cover and hold on" scenario.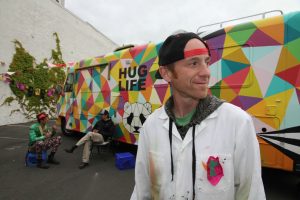 Surprisingly, I haven't met many people whose earthquake-mania matches my own. Or maybe it's just not a topic people want to discuss in a social situation. Natural disasters and their ensuing destruction are not generally the stuff of fabulous parties.
Unless you are Nick Hartrich, Bellingham resident and "Vibe Chancellor." He can find fun in anything. Even earthquake awareness.
I met up with Nick at the Kapow Pop-up Plaza one recent Saturday afternoon. Wearing a white painter's jumpsuit with a vivid Artquake logo on the back, Nick stands out in the crowd. There seems to be no one in attendance that he does not know. As people pass, they pat him on the back, high-five him, shout at him from 25 yards away. I am impressed that, given the commotion, he barely breaks eye contact with me while discussing the many community-oriented projects that make up his vibrant life. He is the CEO of Six Degrees. He is a media marketing specialist and event advisor for Wildlife Media. He is the owner of The Roost Music Venue. He is a prominent member of the energetic and inspiring nonprofit society Provibers. And he is the creative director of Artquake Collective, which is what brings me to this buzzing, humming, laughing, smiling, pulsing parking-lot-turned-playground for all ages.
Artquake Collective is a collaborative that "creates large-scale public and private works of art with the people who live with that community in mind." If you would like to engage your staff, school, neighborhood, church or any other group in a community-driven art project, you can contact Artquake Collective and they will make it happen.
Nick came up with the concept of Artquake while traveling around Christchurch, New Zealand last year. The city was violently shaken by an earthquake in 2011, causing widespread urban damage. As he walked through Christchurch he saw that much of the damage was still visible five years after the earthquake. There was rubble in the streets, sewer lines remained severed. Knowing about the Cascadia fault he thought, "This could be Seattle. This could be us." And he's right. But he also saw that dotting the signs of destruction were glints of progress—bold, inspiring works of art flanking the city's buildings. Large-scale muralists literally painted the town to showcase the vibrancy of the city that was and that will be.
For Nick, surviving a disaster such as an earthquake is not down to socking away food and gas, batteries and cash. This is, of course, very important. But once the shaking stops there is usually massive damage to basic infrastructure and, oftentimes, resulting isolation. The best way to not only survive, but thrive after a catastrophe is to have people you can trust and depend on around you. And Nick has found that, "art is a super easy platform to inspire the creation of community."
This particular Saturday Nick and his collaborators are transforming an old, donated RV. They call her "Wanda" and she is nearly finished as I step up to her with my wet paintbrush and red solo cup of black paint. We are working on the last of the black and white stripes that cover the right side of the camper. Nick guides me to a spot near the bottom, at about the halfway mark of the chassis. I am wedged comfortably between a 13-year-old boy and a 32-year-old woman. We paint and chat. I mostly listen as my fellow painters talk with their companions. It is idle talk. Light, fun. I am diligently staying in the lines. Everyone is. This is not slap-dash. It's a large-scale paint-by-numbers concept and everyone is welcome to fill in empty spaces. I am having a fun, relaxed time meeting people and feeling a part of something.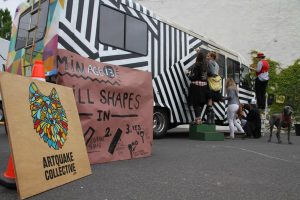 To Nick, art is a, "super easy platform to inspire the creation of community. Art is a, "strategy for engagement." Art is, "a way to get humans to connect with each other." And not just because we may need each other after a disaster. Because we always need each other.