Submitted by: Village Books
On May 25, Village Books is hosting Suzanne Selfors, Kevin Emerson and Garth Stein in a special three-author event. This is a great event for families. Come meet the authors and get your books signed! The event will be held at 7:00 p.m. at 1200 11th Street in Bellingham.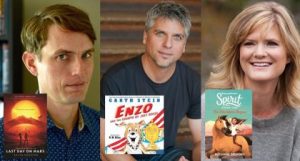 Don't miss this trio of celebrated authors!
Kevin Emerson's Last Day on Mars is an epic, science fiction adventure, complete with alien mysteries and two kids on a mission to save the human race.
Kevin Emerson has written 16 books for young readers, including the Atlanteans Trilogy and The Fellowship for Alien Detection. He is a former science teacher. He lives with his family in Seattle, where he is a drummer and singer in the band, Northern Allies.
Enzo & the 4th of July Races takes its readers on a thrilling racing adventure with Enzo, the beloved dog from Art of Racing in the Rain. Garth Stein is the NYT best-selling author of The Art of Racing in the Rain. His most recent novel is A Sudden Light. He co-founded the literary group, The Seattle7. He lives with his family in Seattle.
Suzanne Selfors' Spirit Riding Free: The Adventure Begins is an adventure about a city girl and a wild mustang who work together to find a new home in the wild west. Now a Netflix Original Series.